In 2016, the Farmer Review, a Government commissioned report on the construction industry, accused the sector of lacking innovation – and said it faced "inexorable decline" and must "modernise or die".
A key recommendation was that housebuilders should pioneer large-scale use of pre-manufactured and off-site construction. To most people, these so-called Modern Methods of Construction ('MMC') are known simply as 'modular housing'.
Two years on, two thirds of housebuilders are now investing in modular (source: Lloyds Housebuilding Report, 2018). Barratt is already using modular housing in some developments, Berkeley Homes is building a factory in Kent to produce 1,000 units annually - while companies including Legal & General and Urban Splash have built or acquired their own modular homes factories aiming to meet expected demand for thousands of new homes.
By adopting innovative new building techniques, it is hoped that some of the challenges around the supply, quality and affordability of new homes – as well as boosting productivity and profitability – can be met.
The Bristol Housing Festival, which is championing innovation and creativity in overcoming the city's crisis in homelessness, will be showcasing some of the latest examples of modular homes among its exhibitions of future development platforms and new technology.
Construction sector
The government wants 300,000 homes a year built by 2025, but at the moment the sector can only deliver about 190,000 – and the UK is lagging behind many other countries in providing pre-constructed homes.
The building sector also has an ageing workforce, a lack of new entrants, a declining number of small housebuilders and possibly a shrinking skilled work force with potentially new restrictions on free movement of labour after Brexit.
The question is whether or not modular construction can help the UK deliver the homes and other buildings people urgently need, and if housebuilders' current commercial and sales models can be adapted to volume production through factories.
The industry is nervous about issues including quality, and whether or not modular structures meet the standards of traditional builds – and will be a product that business, the public sector and consumers will want to buy.
So, the sector will also need to convince new generations of owners and renters that modular housing widely used elsewhere in Europe can provide exciting new designs of homes that are not just factory built 'boxes'.
The RICS says modular construction offers the potential to revitalise the sector and that momentum is building, but that much more needs to be done to modernise the industry including investment in training programmes and apprenticeships.
New technology is easing industry nerves, with integrated software being used in both the design and manufacturing process leading to precision builds with high standards of construction.
There are also moves to create a new 'Modular Design Standard' that will provide a common construction methodology and framework for the industry. This could allow clients to switch between providers with less disruption – knowing there is some consistency in how the products have been assembled, while providing greater levels of comfort to lenders and customers.
Social housing
Affordable homes provision is in crisis after years of inaction and lack of investment, with Shelter estimating there are 1.1 million families and individuals on waiting lists.
Local authorities and the social housing sector face some of the biggest pressures in providing more affordable homes for rent, and are now looking closely at modular construction projects.
Modular housing could offer a quick fix – on temporary sites or on a permanent basis – in providing good-quality urban accommodation and reducing the cost and time of construction, in the same way that pre-fabricated housing was widely constructed after World War Two.
The homes are much quicker to construct in comparison to traditional build with some developers offering on-site completion in a matter of weeks. They can be assembled with relative ease and do not face the same challenges as the traditional housing market such as the shortage of skilled workers.
Already, tenants have moved into Wolverhampton's first council homes constructed totally offsite, while Swan Housing Association in Essex has built its own factory and will deliver 3-400 modular homes annually.
But the public and not-for-profit sectors still need assurance over value for money and finance, which is delaying new housing projects.
Some lenders have said they would be open to providing funding if modular had broadly the same financial safeguards as traditional build. Not all modular systems are currently accepted by the National House Building Council ('NHBC') – which has a review process aimed at ensuring MMC systems demonstrate an "acceptable level of performance" in order to satisfy its technical standards. 
Banks also need satisfying that modular lifespan is sufficient to meet lending criteria, including covenants covering lifetime maintenance and repair obligations, enforceable loan security over the residue of the lease or when the property is sold. Other security concerns for lenders include whether or not the unit is properly installed in the ground – or could it be easily lifted and taken away on the back of a lorry?
Lenders will have different policies about which types of non-traditional construction they see as suitable for financing or mortgage purposes. In addition, they will often take account of other factors that might affect the future marketability of the property when deciding whether to lend on a specific property of non-traditional construction.
Ultimately, therefore, lenders' decisions on providing investment comes down to valuation, and whether or not that is a sufficient amount to cover the lifespan of the financing term and associated risks.
Legal matters
The construction sector is notoriously litigious, and its many components will welcome greater comfort in setting industry positions over procurement structures and where responsibility lies in the fast evolving world of modular developments.
Modular homes are no different to traditional buildings in that they still need to comply with building regulations and that an approved Building Control Service is employed. This ensures buildings, including modular and portable buildings, are manufactured to an approved standard. They cover structural elements, fire safety, ventilation and the energy use of the building.
It will be important to ensure the off-site fabrication process is brought within the inspection processes necessary to sign off on building regulations – the same point of course applies for lender's technical advisors and building warranty providers.
In contracting, the most popular industry standard forms such as JCT and NEC may not be appropriate for a developer that is sourcing completed products from a factory, transporting those components to a building site and is separately procuring the installation of groundworks and utilities.
The sector may want to deliver more through construction management or adopt alliancing techniques more common in economic infrastructure which seeks to formalise the relationship between single or multiple clients, contractors, manufacturers and suppliers.
The standard forms commonly-used in the housing sector do not adequately cover manufacturing, and the ability to inspect and test products within the factory, and a bespoke sign-off regime may need to be developed to include building control, fire safety, quality – and to ensure developers are getting what they paid for. All parties including lenders will want to avoid situations where modules arrive on site with defects, potentially replicated across the entire order book.
There is the added risk factor that modules could be damaged or destroyed while in transport to the site. Contracts will need to go beyond the usual professional indemnity and public liability insurance, and set out requirements to adequately pack the modules and ensure their safe arrival.
In managing these different risks, many warranty providers have typically been nervous about throwing their support behind off-site and modular construction, and new assurance plans are emerging to help convince them to put their weight behind the move to off-site.
These include BOPAS (Buildoffsite Property Assurance Scheme), a risk based evaluation that demonstrates to funders, lenders, valuers and purchasers that homes built from non-traditional methods and materials will stand the test of time for at least 60 years. It provides confidence that the construction system is fit for purpose and removes the uncertainty of the construction for valuation purposes.
Next steps
The government's Housing White Paper last year stated to help ease the housing crisis a "£3 billion homebuilding fund would provide loans to small developers, custom builders and offsite construction with the aim of diversifying the market".
But amongst industry players there's widespread agreement the construction sector needs government buy-in to drive modular forward, and that if the government legislated on manufacturing standards and other safeguards, confidence levels and investment would increase substantially.
Much work still needs to done to address consumer concerns over quality control, construction guarantees resale values, mortgages and insurance.
But with house prices on average in England at seven times people's incomes, and over a million families with children now rent from private landlords, the modular revolution could be a step change in providing the homes so many people in Bristol and other towns and cities need.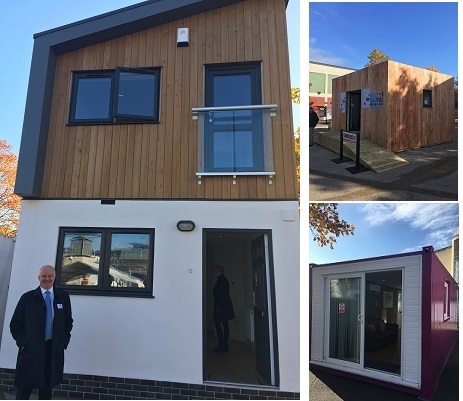 Jonathan Turner views modular homes at Bristol Housing Festival
Proud supporters of: