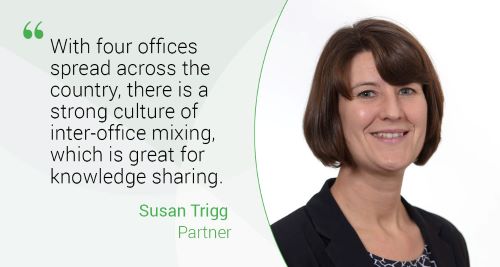 In our penultimate 2021 Promotion Spotlight interview, we hear from Partner Susan Trigg. Susan talks us through her Clinical Negligence practice area, why she feels Bevan Brittan has a progressive outlook, and the growth in the Leeds office Clinical Risk Team.
Tell us about your role. What markets and types of clients do you advise?
I am a Partner in the Clinical Risk team in Leeds. My practice area is broad, spanning Clinical Negligence and Health, Care and Regulatory law. I love the variety of the role – in any given week I can be appearing before a Coroner on behalf of a Trust, defending a GP in a Clinical Negligence claim and then acting for a local authority in Court of Protection proceedings. The health and social care sectors have always been fascinating and of particular interest to me even before I became a lawyer, but the past year has been uniquely challenging and I feel privileged to have been able to assist a wide range of clients through an unprecedented period.
Why do you enjoy working at Bevan Brittan?
Long before I joined Bevan Brittan, I knew of it by reputation as a major player in my sector. Since joining in January 2019, I've found it to be a genuinely friendly and fun place to work, where the people are incredibly good at what they do but equally approachable and down to earth. Everyone seems to take pride in doing the best job they can for their clients. With four offices spread across the country, there is a strong culture of inter-office mixing which is great for knowledge sharing and also makes for strong teamwork within firm-wide teams.
I also think Bevan Brittan has a progressive outlook – long before the pandemic, we were fully kitted out for remote working, both to facilitate inter-office working and also to allow people more personal flexibility. When the first lockdown kicked in, the firm were quick to make sure everyone had all that they needed to be able to work comfortably and safely at home, whether that was through reimbursing people for buying a desk, sending office chairs to people's homes or just by making sure that we had regular video calls and meetings to maintain the team spirit. There's no getting away from the fact that being a lawyer in this sector is hard work, but I feel supported and valued at Bevan Brittan, which makes it that bit easier.
What are you most proud of during your time at Bevan Brittan?
That has to be the ongoing success of the Leeds Clinical Risk Team – I joined the firm in January 2019 to start building that team; there are now six of us and we are already recruiting again. The team has a great breadth of experience and skillsets and we offer the full range of Clinical Risk services. It's exciting to see new opportunities opening up for the Leeds Clinical Risk Team all the time and there is great potential for future development and progression, both for individual team members and for the team as a whole. I've had brilliant support and encouragement from the other offices and from senior management so I can't take all the credit by any means, but it still feels like a personal achievement as well as success story for the firm.
In your new role, what do you hope to achieve over the next few years?
My plan is to continue to build strength and depth within the Leeds Clinical Risk Team to provide excellent legal support and advice to health and social care clients in the North and nationwide. In the shorter term, I'm looking forward to spending some time in the office to see the team in person and seeing clients in person when it's safe to do so. Zoom has been amazing and I think a lot of our 'lockdown practices' will be here to stay – but sometimes it's just good to catch up face to face over a cup of tea!