Three trainee lawyers at Bevan Brittan are among the finalists in awards that recognise the best apprentices and paralegals in the profession.
Michelle Blackwell, Aimee Haden and Samantha Ross – who are all based at Bevan Brittan's Birmingham office – are paralegals working towards becoming fully qualified solicitors.
Michelle and Aimee have both been shortlisted in the Birmingham Law Society Legal Awards 2020 "Apprentice of the Year" category.
In the National Paralegal Awards 2020, Michelle and Samantha have been named as "Best Civil Litigation Paralegal" finalists, while Aimee has been shortlisted in the "Best Conveyancing Paralegal" category. All three are also nominated as "Paralegal of the Year Midlands/North".
Samantha and Michelle both work within the firm's Clinical Negligence practice, while Aimee works within the Property practice. All three are former winners of the Chartered Institute of Legal Executives ('CILEx') Apprentice of the Year award.
Michelle also won the Higher or Degree Apprenticeship of the Year (West Midlands) title in the National Apprenticeship Awards (2018) and is an ambassador for the Young Apprentice Ambassador Network.
With more than 60 legal professionals and support staff in Birmingham – including eight partners – Bevan Brittan has made substantial investments in its capability and capacity in one of the UK's most vibrant regions.
The firm is currently supporting nine apprentices across its offices. Trainees are provided valuable hands-on experience of legal work while studying for their Paralegal Level 4 qualification. Most apprentices also study for their Level 6 Chartered Legal Executive Apprenticeship or the Level 7 Solicitor Apprenticeship.
Commenting on the achievement, Senior Partner Joanne Easterbrook said:
"Congratulations to Michelle, Aimee and Samantha on being shortlisted in these prestigious awards. All three are exceptionally talented individuals who have consistently shown their desire to succeed at the highest level during their time at Bevan Brittan. So it's no surprise to me to see their dedication being recognised repeatedly in these awards.
"We offer a welcoming yet stimulating environment for trainees to embark on their legal journey at Bevan Brittan. As this recognition highlights, this allows those with the hunger to succeed to shine, giving apprentices the impetus they need to form long and successful legal careers."
The Birmingham Law Society Awards winners will be announced in an awards ceremony at the city's International Convention Centre. The National Paralegal Awards gala is being held at the Connaught Rooms in Covent Garden, London. Both events are scheduled for 27 March 2020.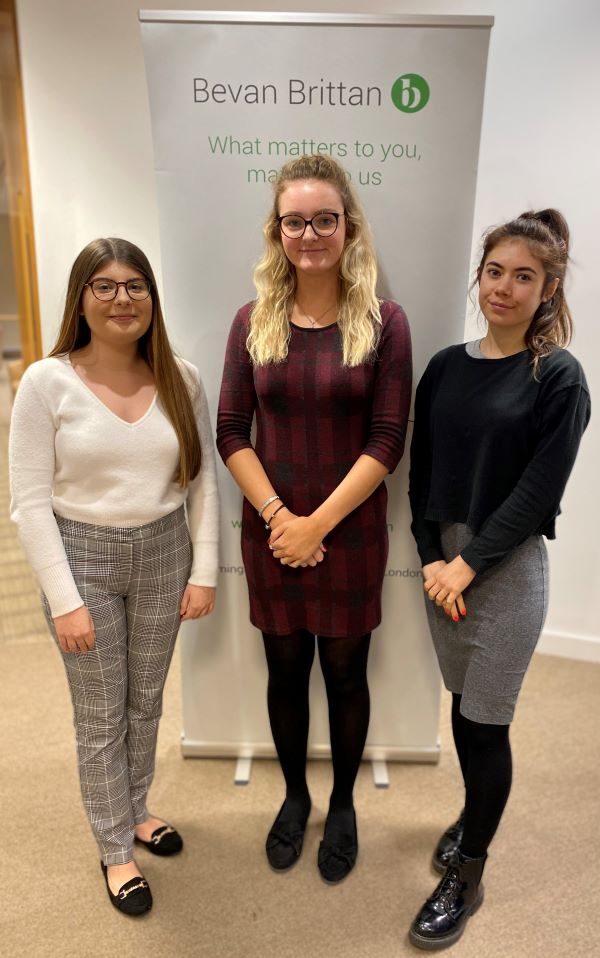 Bevan Brittan's shortlisted apprentices (L-R) Aimee Haden, Samantha Ross and Michelle Blackwell