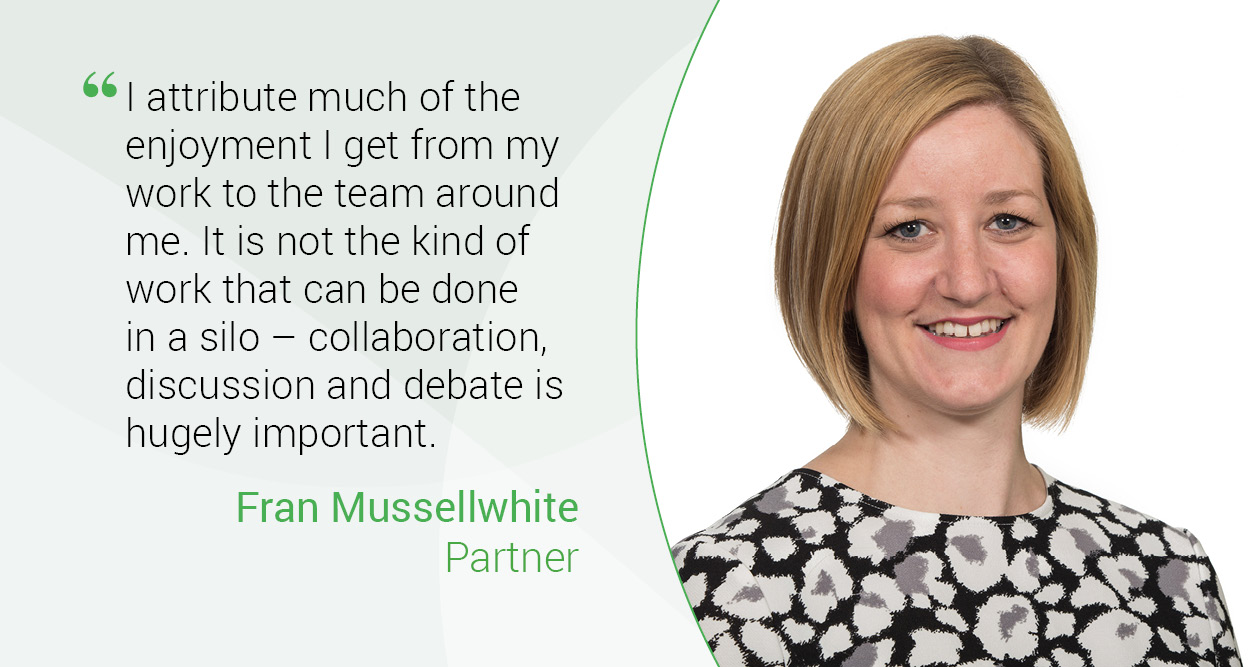 Collaboration, discussion and debate – new Partner Fran Mussellwhite reflects on her promotion journey in the fourth of our Promotion Spotlight interview series.
Tell us about your role. What markets and types of clients do you advise?
I am a dispute resolution and litigation lawyer, specialising in public procurement disputes, and act for both bidders and contracting authorities to bring or defend challenges. I also act on commercial disputes, but generally those with a link to public procurement or public contracts. I act across all of Bevan Brittan's chosen markets. This includes local authorities, NHS Trusts and Housing Associations as well as a whole range of suppliers from transport providers, to constructors, to IT companies, to clinical service providers – the thing that they all have in common being tendering for public contracts. The range of clients and markets I am involved with is really broad and offers a huge amount of variety.
Why do you enjoy working at Bevan Brittan?
There are lots of reasons! One reason that everyone always gives about why they like working for Bevan Brittan (because it's true) is that the people are great. The calibre of our lawyers and support staff is excellent – I'm regularly blown away by how bright, committed and knowledgeable everyone is. They're also really good fun and enjoy fancy dress and karaoke (often at the same time) as much as I do.
I also love the variety of my work. At various points, I've become an expert in school information management systems, waste collection and disposal services, highways construction and maintenance, CCTV systems and broadband infrastructure. It keeps you on your toes, and keeps you learning, and I really enjoy that.
What are you most proud of during your time at Bevan Brittan?
I'm really proud of the procurement litigation team that we have built together. There were only one or two lawyers undertaking procurement litigation work at Bevan Brittan when I joined as a trainee and this has now grown to a team of eight lawyers focussing almost entirely on procurement disputes. Seven of those eight lawyers started as trainees at Bevan Brittan and it's been a pleasure to help to grow the team of excellent lawyers that I work with every day.
Naturally, I'm also delighted to see my clients succeed. One case that stands out for me was for a local charity called Bristol Missing Link that provides support services for women who have suffered from domestic abuse. Having delivered the service in Bristol for years, establishing a vital network of connections across the city and a lifeline to many women, they lost the contract at tender following a procurement and we helped them challenge the flaws in the process, succeeding in achieving the holy grail of procurement litigation – keeping the automatic suspension in place while the dispute was resolved. Ultimately they were successful in securing the contract and continue to deliver the service in the city.
What or who do you credit for getting you to this point of promotion?
Well, there's been a lot of hard work involved! But I attribute much of the enjoyment I get from my work, which ultimately is what drives me to succeed in it, to the team around me. It is not the kind of work that can be done in a silo: collaboration, discussion and debate is hugely important both to enabling our clients to get the best from us, and to ensuring that everyone in the team is supported and confident in the decisions they have to make. On a daily basis we are learning from one another's expertise, as well as pushing and challenging each other. My skills have definitely been enhanced by those around me, by listening and learning from them in the course of the work that we do.
Bevan Brittan is a firm that stands out for not just talking about the need for a more equal gender balance at senior levels but enabling that to happen. I'm very proud to be part of a promotions round in which all five Legal Director and Partner promotions are female, and it's clear that the firm's approach of enabling flexible working and promoting on merit is achieving results.
What do you hope to achieve over the next few years?
More of the same, really! Over the next few years, I hope to continue to grow our procurement disputes practice, bringing on board new clients and continuing to provide support to our wide range of existing clients. I hope to have significant successes for all of our clients, helping them to achieve their objectives, and I'm looking forward to taking on more of a leading role in delivering this interesting and rewarding work.
As a Bevan Brittan Partner, I would also like to develop more of an active role in the firm's processes for training and mentoring junior lawyers, while continuing to be an open door for support and discussion.