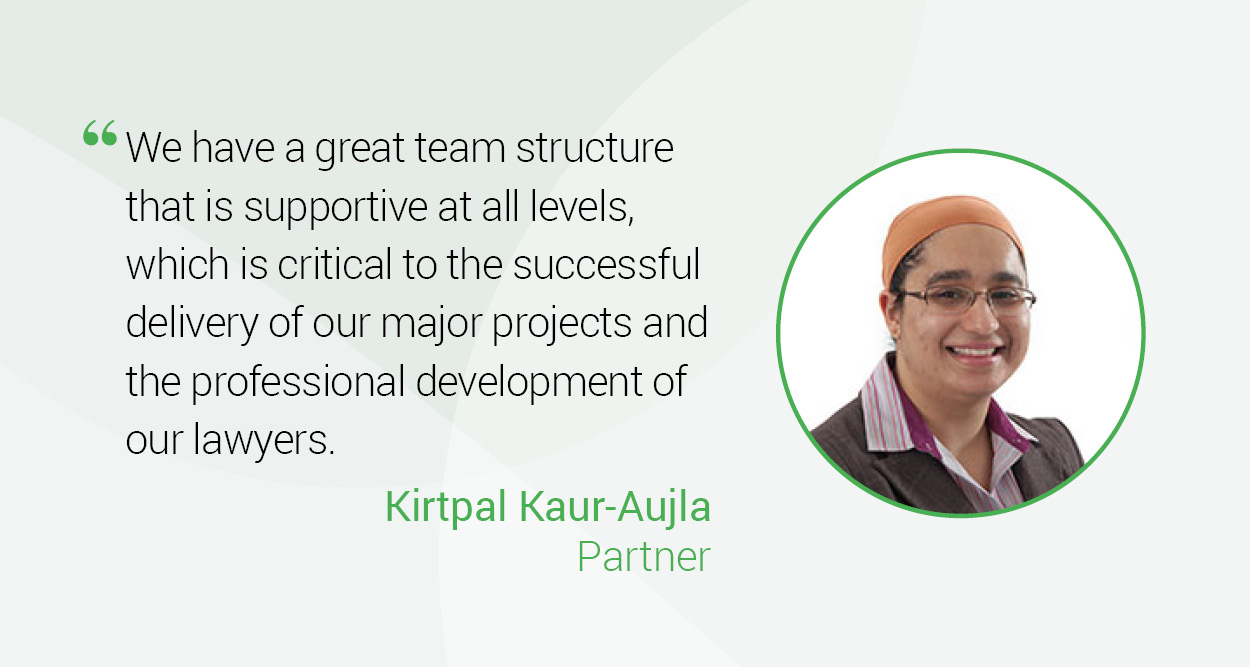 In our final Promotion Spotlight interview, new Partner Kirtpal Kaur-Aujla tells us about the influences that have shaped her path to promotion, touching on team spirit, flexibility and support.
Tell us about your role. What markets and types of clients do you advise?
As part of the Commercial & Infrastructure Department, I deliver a range of commercial projects and strategic partnering arrangements in local government and healthcare. In recent years that has included children's services, education and academies, leisure and culture, and health and social care. My team works with a variety of clients ranging from local authorities and NHS bodies to businesses and third sector organisations that partner with and provide public services.
Why do you enjoy working at Bevan Brittan?
I joined Bevan Brittan as a trainee because I was drawn to working in a firm that was at the cutting edge of new models for infrastructure and service provision in the public sector. The concept that through my work I could be involved in public service – by working with clients that engage with the public sector on projects that impact people's lives – really convinced me that Bevan Brittan was right for me. And here I am all these years later working on new models of service delivery in children's services to some of the most vulnerable individuals in society.
My role gives me an interesting strategic perspective into how my core markets operate. Supporting often lengthy commercial transactions allows us to develop long-term relationships with our clients. I particularly enjoy becoming an integral part of the client's project delivery team. This provides a unique insight into their strategic aims, priorities, pressures and challenges.
Bevan Brittan is a very inclusive place to work with a genuine team spirit. Coordinating multi-disciplinary teams on large projects allows me to get to know colleagues across practice areas and provide an integrated full service to our clients
What are you most proud of during your time at Bevan Brittan?
One of the most rewarding aspects of the projects that I have been involved in is the team approach to delivery; all practice areas come together to support a project from inception to completion (and beyond). Whilst burning the midnight oil on a PFI completion is an interesting and rewarding experience, there are two major projects in children's services that stand out as being memorable experiences: the establishment of Children's Trusts in Sandwell and Birmingham. As a team we negotiated and delivered both of these major projects simultaneously – quite a feat!
What or who do you credit for getting you to this point of promotion?
The culture at Bevan Brittan is such that one has the flexibility to take on and develop a portfolio led by one's interests and those of the team. Over the years, I have had great mentors that have supported me in expanding the breadth of my experience in a variety of markets.
It's great to work alongside leaders in the field of local government, such as Judith Barnes, and have the support of Andrew Tobin as our department head in understanding the strategic contribution of our projects. At Bevan Brittan, we support lawyers at all levels to be involved in business development and form a strategic understanding of our markets. David Hutton has always been particularly encouraging.
We also have a great team structure that is supportive at all levels, which is critical to the successful delivery of our major projects and the professional development of our lawyers.
What do you hope to achieve over the next few years?
It is an exciting time to be working within local government and healthcare. The financial challenges and pressures continue to be a consistent theme, although the post-Covid-19 recovery period brings with it opportunities for building innovation in local recovery and resilience planning. The pandemic has also heightened the need to address the health and social inequalities at the highest level, and this requires an integrated response from local government and the NHS. As a firm, we have an established portfolio of supporting new ways of structuring public services and new models of infrastructure, and I look forward to the challenges of evolving this experience in the 'new world'.