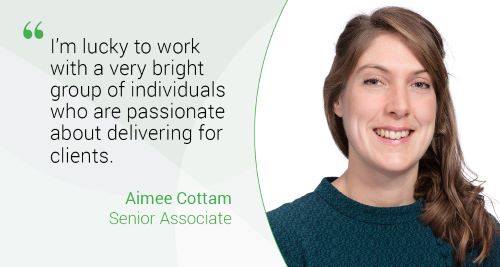 In our second 2021 Promotions Spotlight interview, we talk to Senior Associate Aimee Cottam, who discusses the mix of clients she works for, the culture of Bevan Brittan, and how she's looking forward to helping existing and new clients overcome the challenges they face.
Tell us about your role. What markets and types of clients you advise?
I'm part of the Property Dispute Resolution team at Bevan Brittan. The work I do is very varied and a day's work might range from advising on recovering possession from squatters to advising on a property-related contractual dispute arising in the context of a development or regeneration scheme.  
I specialise in commercial property disputes and advise on contentious aspects of commercial landlord and tenant law, including breaches of lease, business tenancy renewals and the service of break and other property notices, as well as advising landowners in relation to property issues such as rights of way.
As well as acting in High Court and County Court property-related litigation, I often provide risk management advice on contentious property-related issues. I work with my clients to help them to resolve their issues without recourse to Court proceedings where appropriate. 
I act for a range of different clients, from charities and NHS organisations to businesses, but I have a particular interest in local authority and higher education work and particular experience acting for local authorities in complex disputes and litigation.
Why do you enjoy working at Bevan Brittan?
I enjoy working at the firm for two main reasons: the people and the broad range and types of work that we do.
I am lucky to work with a very bright group of individuals who are passionate about delivering for clients. Importantly, my colleagues are also down to earth and have a great sense of humour, which makes a huge difference day-to-day! The firm has an open and friendly culture, which I value highly.
I also like the fact that the nature of many of my clients, such as local authorities, means that I get involved in varied (and often large-scale) projects and developments that touch the lives of many people. I find that very rewarding and I like the fact that no two days are the same here!
What are you most proud of during your time at Bevan Brittan?
Acting for the London Borough of Brent in The Mayor and Burgesses of the London Borough of Brent v Leonard Johnson (claiming to be a trustee of Harlesden Peoples Community Council) and others [2020] EWHC 2526 (Ch) has been a career highlight.
More generally, I'm proud of the work I've done that's delivered financial efficiencies for my clients. For example, I have advised clients from a broad range of sectors on the exercise of break rights to bring an end to leases early and secure savings for them. This includes advising on a particularly complex set of break rights to ensure that a set of leases of prime office space were brought to an end, which secured significant savings for my client.
I'm also very proud of my contribution to the development of the trainees that I have supervised. Seeing colleagues develop their skills and then flourish as newly qualified lawyers is a really satisfying part of the job. 
In your new role, what do you hope to achieve over the next few years?
Many clients have had a difficult 12 months and, looking forward, I hope to use my experience to work with existing and new clients to overcome the challenges that they face and maximise any potential property-related opportunities. For instance, when protective measures for commercial tenants that have been put in place as a result of the pandemic come to an end – such as the prohibition on forfeiting commercial leases based on rent arrears – I will be able to advise my clients as to how best to move forwards based on their particular goals.
As I mentioned, I have a particular interest in local authority and higher education work. The issues affecting the property portfolios of the two sectors have many similarities and I hope to use my experience in advising local authorities with complex litigation and delivering efficiencies to grow existing relationships and expand upon the work that we do for both sectors.
Overall, I look forward to contributing to and seeing the continued growth of the Property Dispute Resolution Team and the firm.