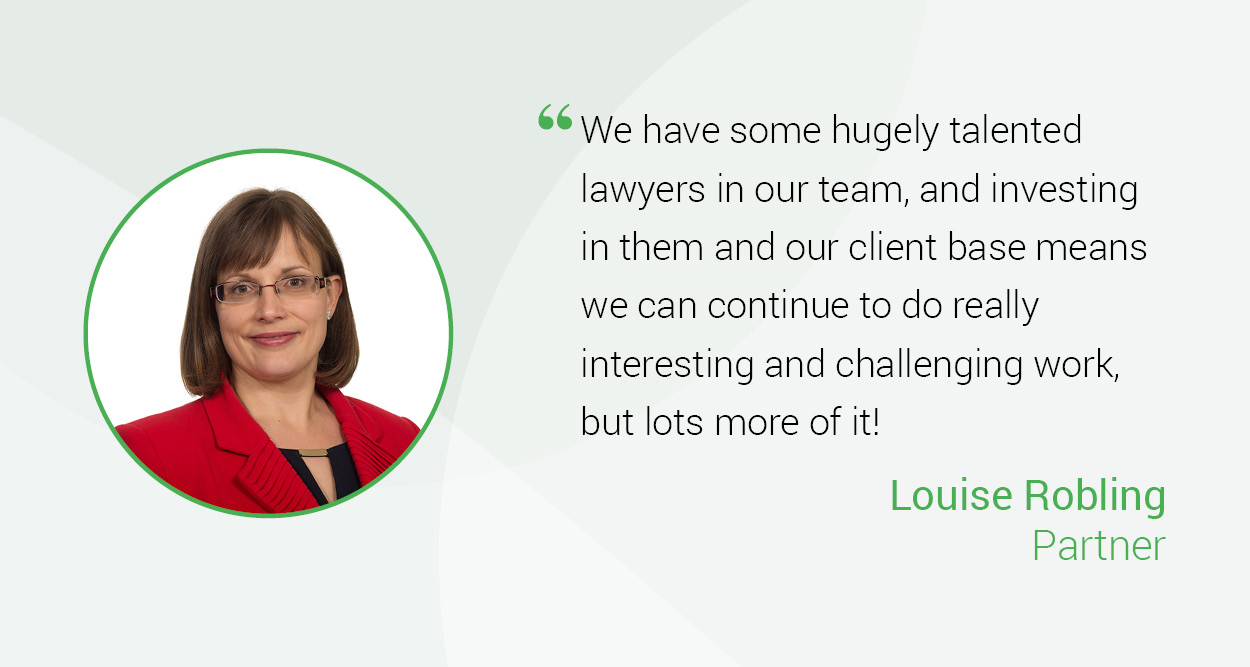 In the newly published Legal 500 directory, Bevan Brittan's Construction practice performed particularly well in the South West, London and Yorkshire. We caught up with Louise Robling, who is recognised as a 'Leading Individual' in the Construction category to discuss her role, the markets and clients she works with, recent projects and what's next for the team.
Tell us about your role. What markets and types of clients do you advise?
I lead the construction dispute resolution team at Bevan Brittan. I started at the firm as a trainee in 1996 and the firm has changed significantly in that time. I began my career in the commercial litigation team and then moved to the construction team in 2000. Back then we were just based in Bristol, but the team has grown substantially in recent years, and we now operate teams from London and Leeds, covering disputes nationally.
The types of markets I work in span across the board into everything the firm does; Health, Local Authorities, Housing. I also do a range of work for commercial developers, construction contractors and PFI investors. Disputes happen in every market, and the issues are often very similar in each, but covering work for employers and contractors means that we get a really good understanding of what matters to each side, which means we can anticipate what each side will say, but we can also see where solutions might be reached too.
At the moment, we are doing lots of work on housing projects – on cladding and fire protection defects – largely triggered by the Grenfell disaster. The guidance in that area is changing rapidly and we will see legislation changes coming very soon. Historically, the construction industry as a whole has not been great at dealing with fire protection, so consequently there are a lot of defects claims.
I also do lots of work in the PFI sector mainly social infrastructure, which includes hospitals, schools and housing, but the team also covers highways too. We work with clients that have long term, large maintenance contracts. They sound simple, but the scale involved means that they can be extremely complex contracts with multi million pound disputes if they go wrong.
Which projects have you most enjoyed working on over the past 12 months and why?
Big question, but probably the fire cladding/fire protection type cases – because you can actually see a real life impact on people from those types of cases – what you are trying to do, on both sides, is end up with a building that is safe for people. I also enjoy those cases that are technically challenging, where you really have to get into the detail of the construction process. I find understanding how buildings are built so interesting, not just how they all get put together, but the process involved – co-ordinating huge numbers of people  to produce a building from a concept in a drawing. Listening to the technical specialists explaining how things are built is really fascinating, and we've had quite a few of those cases in the last 12 months.
What do you hope to achieve over the next 12 months?
We have ambitious plans to grow. As I mentioned, when I first took over the lead of the construction dispute resolution team we were just based in Bristol. Since then we have expanded into both London and Leeds, and the plan is to increase even further in size. We aim to expand our teams in Bristol, London and Leeds, but also want to expand geographically into our Birmingham office.
We have some hugely talented lawyers in our team, and investing in them and our client base means we can continue to do really interesting and challenging work, but lots more of it!