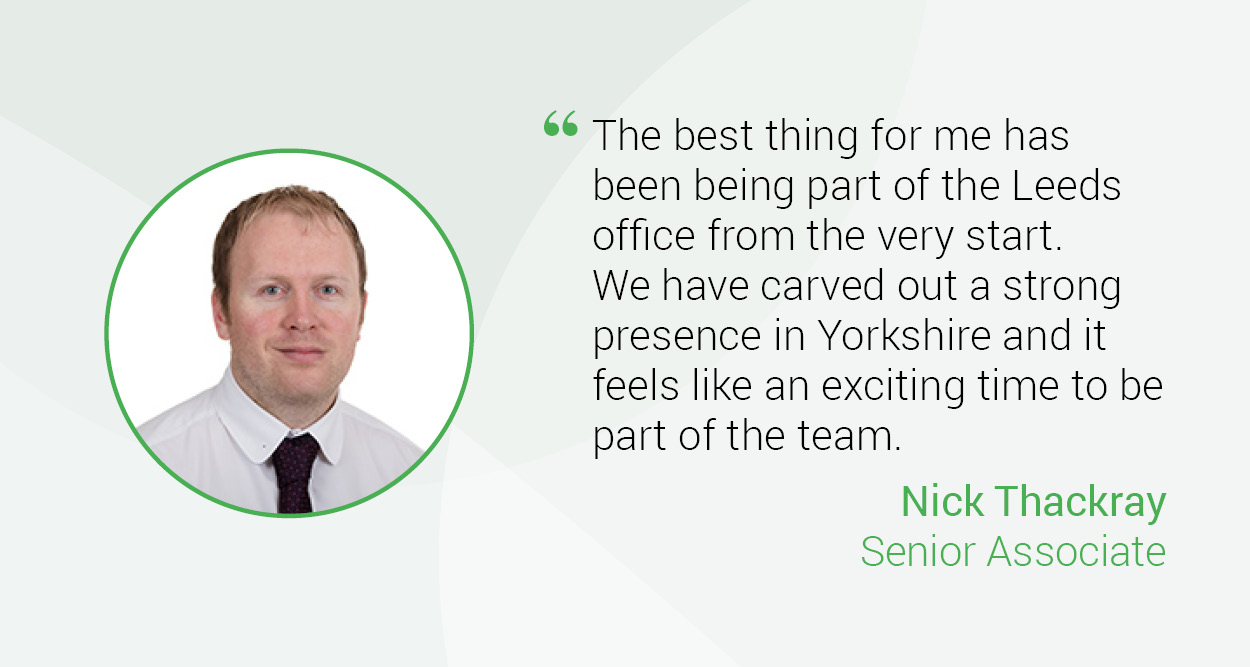 In the third of our Promotion Spotlight interview series, new Senior Associate Nick Thackray talks Leeds, local authorities and looking to the future.
Tell us about your role. What markets and types of clients do you advise?
I am part of Bevan Brittan's Property Department, specialising in commercial property transaction work and touching on some residential property investment. I advise a balanced range of clients across various sectors, from corporate clients to local authorities. For the latter, my work is focused on the acquisition of investment properties, which generate important income for local authorities
I also provide property support for our corporate transactional teams.
Why do you enjoy working at Bevan Brittan?
The best thing for me has been being part of the Leeds office from the very start when it opened back in 2015. Back then, it was just a handful of us and I have seen it grow over the past five years. But it still has the same collaborative, close-knit feel that it had when I joined; it's such a supportive environment, which you don't always get at some firms. So that's what I like about working in our Leeds office – it has a nice feel to it and it dovetails well with the rest of the firm.
We have carved out a strong presence in Yorkshire and beyond in a relatively short space of time. It feels like an exciting time to be part of the team here in Leeds.
What are you most proud of during your time at Bevan Brittan?
One of my biggest achievements was being given the opportunity to lead on a multi-million pound retail park acquisition for a local authority last year. Having the responsibility to own the project was a big vote of confidence so I was proud to see the deal through to completion. Of all my local authority work – investment acquisitions, commercial property transactions – this was the largest, which is why it meant so much to me.
Another highlight for me was the Leeds office winning the inter-office football tournament a couple of years ago. I am hoping we will arrange another one when it is safe to do so, but as Leeds always wins it might take a bit of persuasion.
What or who do you credit for getting you to this point of promotion?
I have worked with Partners Deborah Powell and Lyndon Campbell since I was a junior lawyer, having joined Bevan Brittan with them in 2015, and they have been so important to me and my personal development. Both from a legal perspective and in terms of passing on their knowledge and expertise; telling me what was needed to progress and move forward. From there, it has been up to me to work hard putting into practice all their nuggets of wisdom. Hopefully this promotion is a sign of that coming to fruition.
What do you hope to achieve over the next few years?
I would like to maintain my existing client relationships and win some new clients from a good mix of sectors that keep supporting what we do well as a firm. Personally, I am looking forward to learning more from those around me, to build on what I have learned so far, and keep moving up the ladder.
And of course, to win the next inter-office football tournament!