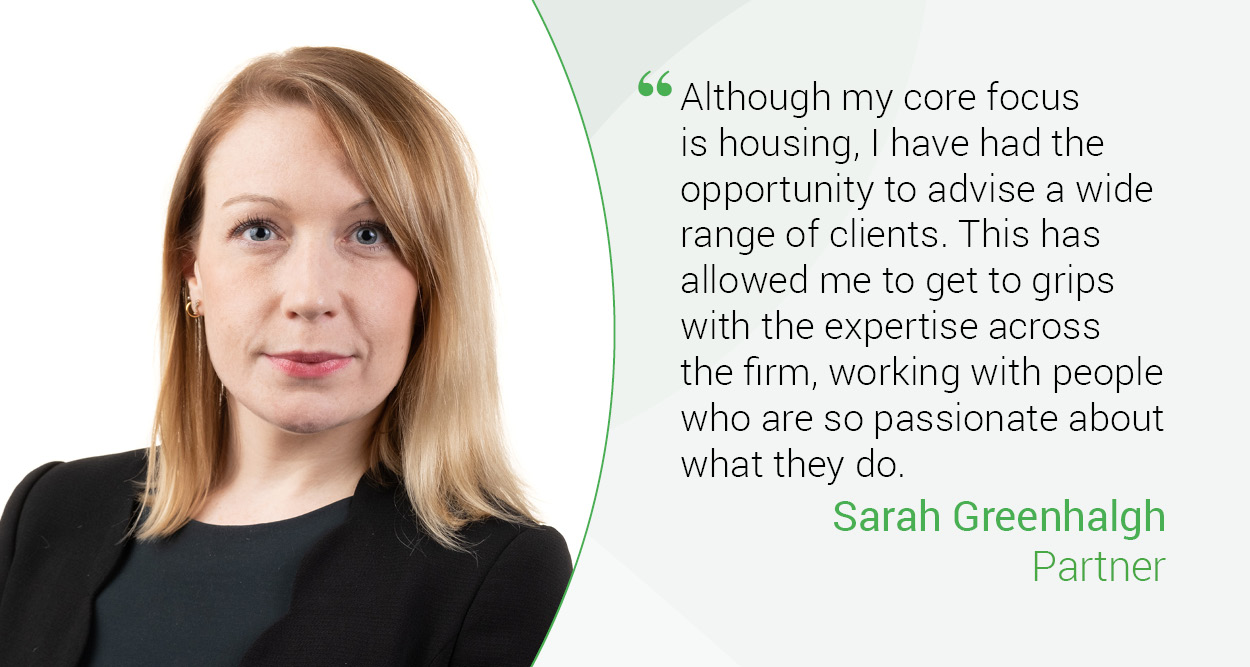 In the second of our Promotion Spotlight interview series, new Partner Sarah Greenhalgh talks through what - and who - has shaped her path to promotion.
Tell us about your role. What markets and types of clients do you advise?
My core role is to provide corporate governance support to housing associations as part of the Housing Practice, but I also support a wider client base such as local authorities and the commercial sector on housing or charity-related matters. My work ranges from running workshops for executive leadership teams on strategy, to managing a merger, to providing day-to-day advice around governance best practice. 
Why do you enjoy working at Bevan Brittan?
I enjoy the breadth and the variety of the work I get involved in – although my core focus is housing, I have had the opportunity to advise a wide range of clients. No two days are the same! This has allowed me to really get to grips with the expertise across the firm; I really enjoy the fact I get to work with people who are experts in their fields and so passionate about what they do.
More widely I have found Bevan Brittan to be a very supportive environment, with a real team atmosphere. Since we've been working remotely during the COVID-19 pandemic, this has continued; both my manager and team members check in with me regularly. And of course there's the weekly Friday team drinks over Zoom, which is a nice sociable end to the week!
What are you most proud of during your time at Bevan Brittan?
It's so hard to just pick one example! Building up relationships with clients and really getting to know their businesses is what gets me up in the morning, so introducing Great Places Housing Group and ForViva Group as new clients to the firm are particular highlights.
In terms of specific projects, during my first year with the firm I also had the opportunity to work on the merger of Catalyst Housing Group with Aldwyck Housing Group. It was great to see two ambitious organisations joining together, and being involved in making it happen.
This year I am also incredibly proud to have sat on the advisory board for the National Housing Federation's new Code of Governance. Being involved with setting best practice and policy at the highest level in the housing sector is incredibly exciting.
What or who do you credit for getting you to this point of promotion?
Bevan Brittan's Housing Practice lead, Partner Jonathan Turner, has been instrumental for me. He has really encouraged me to develop my practice area and given me a lot of freedom in how I do it. When I met him before joining I believed in the vision he set out for the Housing Practice at Bevan Brittan; since joining I have contributed my own ideas and helped to shape it further. And the same goes for colleagues throughout the team; all have been so supportive and welcoming since the day I started.
More broadly, I've always tried to do things I'm really passionate about and you can't go far wrong if you follow this approach; it sounds a bit cheesy but the work that my clients do in building up their communities and the fact that I can contribute to that is really what drives me. 
What do you hope to achieve over the next few years?
My goal is to build up the firm's housing corporate governance work and continuing to be involved in driving best practice. On top of working on the NHF Code, I have been working with others to increase the awareness around the role of Senior Independent Directors and the importance of Company Secretaries in the sector.
On a personal level, I am proud to be a founding member and the Chair of Suited for Success, a Birmingham-based charity supporting people to get back into work. Our services are desperately needed and demand is only going to increase. So I am looking forward to working with my fellow trustees and our MD Patricia White to drive 'S4S' from strength to strength over the next few years.