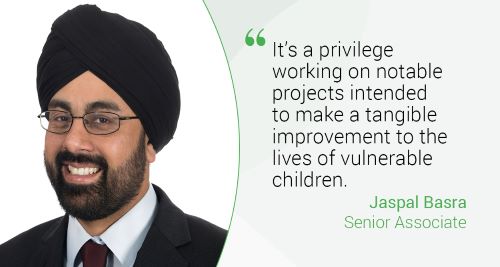 In the first of our 2021 Promotions Spotlight interviews, we catch up with Senior Associate Jaspal Basra, who tells us about his varied role, the two leading reasons why he enjoys working for Bevan Brittan, and what he hopes to achieve with colleagues in the Business Immigration Team over the coming years.
Tell us about your role. What markets and types of clients do you advise?
My role is quite diverse and involves advising and supporting clients on employment, pensions and business immigration law issues. So it's quite a variety of work.
My career with Bevan Brittan started off with employment and has gradually morphed into a broader role with the addition of pensions work and, when Partner Ashley Norman joined the team, business immigration work
We work for a wide range of clients – local authorities, the NHS, housing associations, independent healthcare providers and universities. Employment and immigration lends itself to quite a diverse range of clients.
Why do you enjoy working at Bevan Brittan?
Most of all, it's the people – whether within my immediate Employment, Pensions & Immigration Team, the wider Litigation, Advisory and Regulatory Department or the firm as a whole. During my time at Bevan Brittan I have developed strong working relationships across various teams and departments and enjoy working with friendly people, which certainly makes collaboration much easier!
Throughout the Covid-19 pandemic I think one of the reasons Bevan Brittan adapted so well to the challenges of remote working was due to the strong working relationships and existing working practices between staff across offices and teams.
Then there is the interesting and varied nature of the work we do, which involves supporting clients on projects that will have a meaningful impact across a wide range of stakeholders. To date, we have provided significant employment and pensions advice to clients who are focused on improving the provision of children's services for local authorities by creating Children's Trusts. The health sector has seen a greater focus on joint working employment models and we are increasingly advising healthcare clients who are navigating the challenges of delivering integrated healthcare services.
In the education sector, we have been providing immigration support to our higher education clients around Brexit and the implications of the modified UK Immigration Points Based System to their existing processes and workforce recruitment plans. 
With that in mind, it's certainly an exciting time to be part of the team at Bevan Brittan.
What are you most proud of during your time at Bevan Brittan?
It's been a privilege working on some notable projects intended to make a tangible improvement to the lives of vulnerable children. As I mentioned above, working as part of a team advising on the creation of Children's Trusts and Regional Adoption Agencies to deliver improved children's services – around various parts of the UK – has been a very positive experience.   
Having been here for almost 14 years now, I have also worked with a lot of junior colleagues and trainees. It has been equally wonderful helping them develop their potential and seeing them progress their careers and go on to achieve great things.
In your new role, what do you hope to achieve over the next few years?
In a nutshell, more of the same – building upon our existing expertise in the areas where we are developing across markets is an important aim. The increasing significance of business immigration to all clients when considering workforce planning provides us with an opportunity to demonstrate what we can do to help them take their plans forward and I hope to work closely with my colleagues in the Business Immigration team to achieve that. 
Developments in the pensions field as a result of the new Pensions Bill, as well as the Government's response to the McCloud consultation around changes to transitional arrangements within public sector pension schemes, will also have significant implications for a majority of our clients. It will be interesting to see how such developments influence them in their decision making. Again, it's an opportunity to demonstrate to clients the value of early engagement on such complex issues and how it may be more effective than leaving these things to resolve if or when problems arise.  
On a personal level, after a significant period of remote working, I'm looking forward to the possibility of actually seeing and communicating with colleagues and clients face to face.