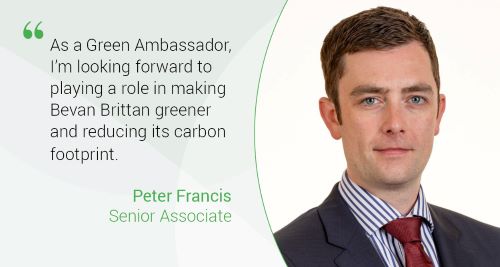 In our third Promotion Spotlight interview, we hear from Senior Associate Peter Francis. Peter gives us an insight into being part of the Corporate Team in Bevan Brittan's Birmingham office, the culture of the firm, and the areas he would like to see grow over the coming years. 
Tell us about your role. What markets and types of clients you advise?
I'm a corporate lawyer working in the Commercial & Infrastructure Department in our Birmingham office. I work alongside Corporate Partner Monica Macheng in Birmingham, with close collaboration with our broader corporate colleagues across our four offices.
In terms of our markets and clients, we have done a lot of work for the independent health and social care sectors over the past couple of years, including working on multiple care home disposals and acquisitions, the acquisition of a domiciliary care agency, the acquisition of a private ophthalmic hospital and the refinancing of a large care home group. I also do quite a lot of work in the venture capital and private equity sector. Over the past few years, I have been involved with over 30 venture capital and private equity transactions, so I'm hoping to continue building on that.
Overall, there is a good mix of work across different types of clients and sectors, which I enjoy.
Why do you enjoy working at Bevan Brittan?
I moved to Bevan Brittan a few years ago having lived and worked in Nottingham, and I like the culture of the firm. Everyone is very friendly and supportive, whether immediate members of the team, business services or colleagues in other departments. This is a major positive for me, as I think everyone performs at their best when working with colleagues who are keen to help each other and work towards the success of the firm as a whole. Most of the time there is also a good work-life balance, which is important to me; everyone needs some downtime to switch off and enjoy themselves outside of work.
The firm also has a strong ethos of doing the right thing through its Responsible Business programme and I've recently become a 'Green Ambassador' as part of the Environmental Sustainability strand. Protecting the environment and doing everything we can to prevent climate change is important to me, so I'm looking forward to playing a role in making Bevan Brittan greener and reducing its carbon footprint as we look to become carbon neutral in 2021.
What are you most proud of during your time at Bevan Brittan?
I'd have to say the general growth of the Corporate Team since I joined Bevan Brittan, as we build our portfolio of clients and with a view to growing and recruiting more team members in the not too distant future. I'm very proud of having played a role in that, bringing in new clients to the firm and increasing the profile of the Corporate Team. This has provided a strong base to build from, so we can now start to expand both the team and the range of work to grow our footprint in the Birmingham corporate market.
In your new role, what do you hope to achieve over the next few years?
We continue to keep growing the Corporate Team in Birmingham, both in terms of the number of team members and the clients we represent. It would be great to see even more deals completed, particularly within the independent health and social care, venture capital and private equity sectors.