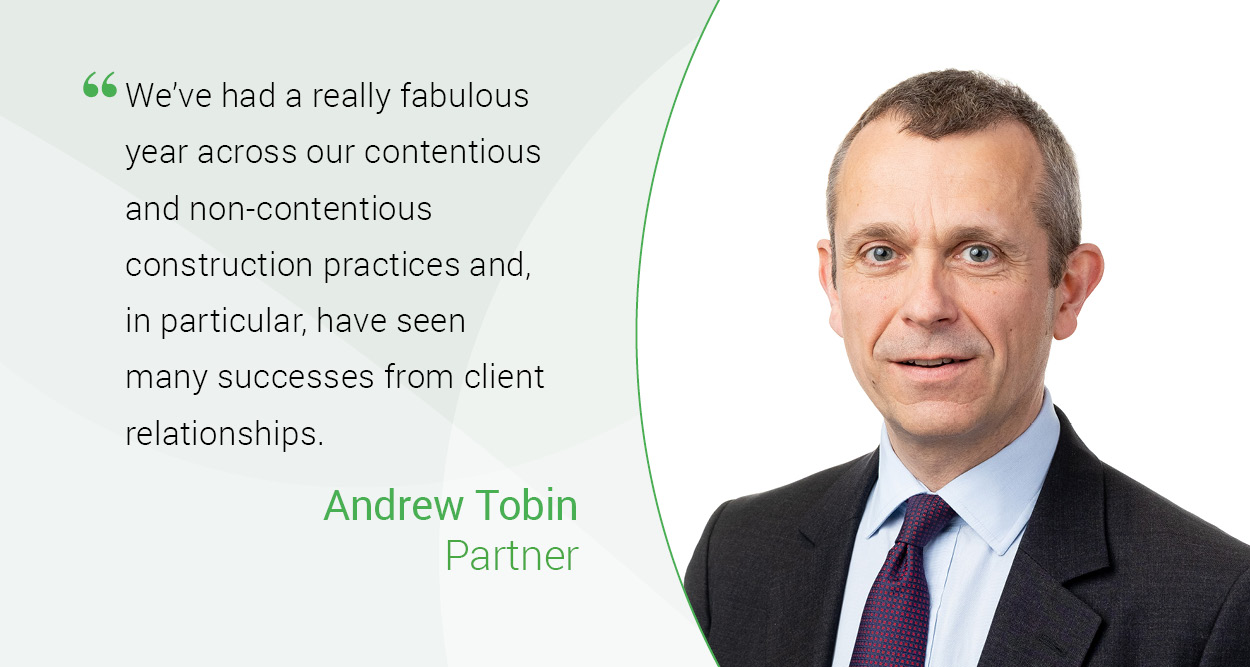 In the recently published Legal 500 directory rankings Bevan Brittan's Construction practice performed particularly well achieving a Top Tier ranking in the South West; its first ranking in Yorkshire and maintaining its ranking in the highly competitive London market.
In the first of our Legal 500 Spotlight interview series, we caught up with Head of the firm's Construction practice, Andrew Tobin, to delve a little deeper into this success.
What has made this such a successful year for your practice?
We've had a really fabulous year across our contentious and non-contentious construction practices and, in particular, have seen many successes from client relationships that have been developed over a number of years. So I would say it's the things we've been doing for several years now that have led to this recognition.
It's really pleasing that we have been recognised as a Top Tier Construction team in the South West, identifying the strong leadership of Partners Louise Robling and Jonathan Turner in the markets we work within across housing, local government, health and our wider commercial client base.
We have also seen excellent results in Leeds this year, where Partner Judith Hopper has established, in a short space of time, a recognised disputes practice in construction and projects.
What types of projects/advice have you been providing over the last 12 months?
There are too many to mention here, but as a snapshot overview: major housing and regeneration schemes, building projects in the independent health sector, complex PFI/ PPP disputes and contract renegotiation and Government-led building programmes in education and health.
Which clients have you worked with this year? / Which projects have your team delivered on this year?
So many to choose from but two stand out projects are the Thamesmead regeneration project for the Peabody Trust which will deliver 11,500 new homes and the new Museum of London at Smithfield Market where we are advising the City of London Corporation.
What do you think are the opportunities and challenges faced by this market over the next 12 months?
The obvious challenge is how the construction industry can re-emerge from the limitations that were imposed on it during lockdown and the resulting wider economic impact. For our practice at Bevan Brittan there's a huge range of opportunities, not least because the Government is committed to spending on infrastructure projects. We're ideally placed for that across regeneration, social housing and major NHS and education projects. In fact we are already working on a number of these projects where the Government has committed finance.
The other significant area in which we are well placed is in the PFI/PPP market, where many contracts are moving towards their latter stages. So there is significant opportunity for us with our expertise and client base to advise clients on options and strategies.
What do you hope to achieve as a team over the next 12 months?
We've increased the size of the team over the last two years quite considerably and we have plans to continue that growth, focusing both on growing in our existing offices and also expanding into the market in the Midlands. Notwithstanding the uncertain economic climate, we are confident we can continue to build on our successes to date.