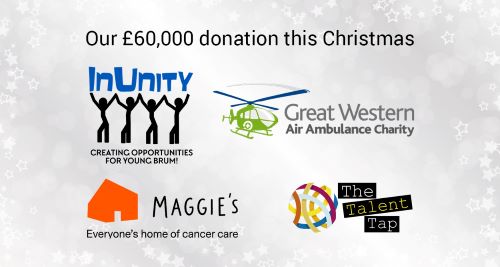 Cancer support, help for homeless families, social mobility and air ambulance missions are the charitable causes that Bevan Brittan is supporting this Christmas with its highest-ever donation.
The UK Top 100 firm is donating £15,000 to each of its four nominated office charities Great Western Air Ambulance Charity; InUnity; Maggie's Yorkshire and The Talent Tap in recognition of the difficult year all have faced managing the impact of the pandemic.
The £60,000 donation represents a substantial increase on the £40,000 Bevan Brittan donated last year and will offer all four charities a much-needed boost at this time of year.
The £15,000 will be used by each of the four local charities to fund 7.5 complete air ambulance missions in the South West, offer six full days of support for people living with cancer in Yorkshire, give disadvantaged teenagers fully funded work experience in London, and provide much-needed respite for homeless children in Birmingham.
During the year, colleagues from across Bevan Brittan have been involved in a number of fundraising and support activities for their chosen office charities, including 10k runs in Leeds and Bristol, the Yorkshire Three Peaks Challenge, a clifftop abseil, mentoring disadvantaged young people in London, and Euro 2020 sweepstakes.
The quartet of good causes were all nominated by colleagues in the firm's offices in Birmingham, Bristol, Leeds and London. All four charities will use their donation to fund the work they do in the local community:
InUnity (Birmingham): the funds will go towards the youth clubs and mentoring for families living in temporary accommodation. Unfortunately, Covid-19 has caused a lot more families to become homeless, or fleeing their homes due to domestic violence.
Great Western Air Ambulance Charity (Bristol): this would fund 7.5 complete missions, covering the helicopter, fuel, pilot, paramedics, doctors, drugs, and equipment.
Maggie's Yorkshire (Leeds): £15,000 will fund six full days of support in the centre, including face to face, phone and virtual support.
The Talent Tap (London): the donation will increase their support to allow for 15 more young people from low socio-economic backgrounds in social mobility cold-spots across the UK to enter The Talent Tap's programme.
Commenting on the donations, the firm's Head of Community Engagement, Partner Mark Calverley, said:
"2021 has been another very challenging year for the charity and third sector so we are thrilled to be able to offer some extra support at what is always a busy time for charities and the people they care for.
"As a responsible business, we are proud of the active role our colleagues play in supporting their local communities, not to mention the range of pro bono work we do during the year. We look forward to maintaining our support for these worthy causes during 2022."
Bevan Brittan, which recently revealed that it had achieved carbon neutral status and outlined plans to cut emissions further towards net zero, also confirmed plans to send clients eCards in place of physical Christmas cards this year, saving 66kg of paper.
Read more about Bevan Brittan's Community Engagement initiatives.