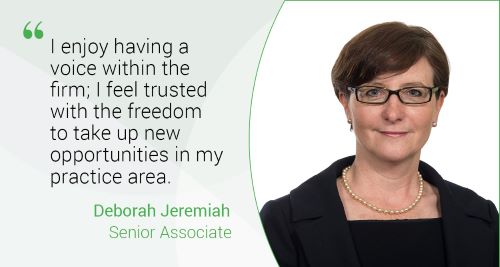 In our final 2021 Promotion Spotlight interview, we catch up with Senior Associate Deborah Jeremiah, who talks through her highly impactful children's law work, why it resonates with her, and her wider involvement with the firm as an Equality, Diversity & Inclusion Ambassador.
Tell us about your role. What markets and types of clients do you advise?
I'm a Senior Associate in the Health, Care and Regulatory Team and I'm also one of Bevan Brittan's Equality, Diversity & Inclusion (ED&I) Ambassadors.
In my role as Senior Associate, I work closely with my team and others across the business to primarily grow children's law. My role is to oversee and drive forward that practice area. I'm also involved with adult safeguarding work.
The children's law work crosses into numerous markets and we have a breadth of clients across a range of health, social care and local authorities. The work we do touches on all the main legislation and national frameworks that impact upon children and children's services right across health, social care and education and of course child protection and wider safeguarding. We also advise upon children with special educational needs and disabilities and children who have complex commissioning or provision needs.  We do a lot of First Tier tribunal work and court work too.
Why do you enjoy working at Bevan Brittan?
I've worked at Bevan Brittan for quite some time and I have seen the business go through many changes. The firm has really gone from strength to strength, growing both as a business and in terms of its ethos and culture – both of which are very positive. It's important to me that I work in a business that aligns with my own personal values, which Bevan Brittan does.
I also enjoy having a voice within the business, enabling me to make a positive contribution. When I express an opinion or idea, I feel listened to, which is very gratifying. I also feel trusted to be given the freedom to take up new opportunities in my practice area and this allows me to use wider business skills.
What are you most proud of during your time at Bevan Brittan?
Over a long career, I've been lucky enough to advise on some major pieces of work that have contributed to national changes. The thing I am most proud of is the strong relationships I have with clients, particularly those longstanding ones where a professional has moved across several organisations and keep coming back to us at Bevan Brittan.
I'm also immensely proud of how well our ED&I committee work is developing. I led this year on the firm's support for LGBTQ+ History Month, filming a series of videos with individuals from the LGBTQ+ community to share their stories and increase understanding of what it means to be an ally. To align ourselves with this vital cause speaks volumes about the firm's wider commitment to being a responsible business.  
In your new role, what do you hope to achieve over the next few years?
One of my goals is to continue to support and develop our junior staff, particularly while working remotely to ensure they have the tools and guidance they need to progress in their careers.
I'd also like to consolidate the work we're doing across our markets and strengthen existing relationships within children's law.
I'll also remain committed to supporting the progression of our ED&I agenda. Our ED&I and Community Engagement programmes align well with the work we undertake as a firm as we strive to for social impact. For example, our mentoring programme in local schools fits well with our children's work and encourages social mobility for young people who haven't had an opportunity to consider a career in law. I came to the law as a second career after a career in nursing and didn't have the chance to attend university at 18, so it's great if we can encourage those from a range of backgrounds to come into the profession.