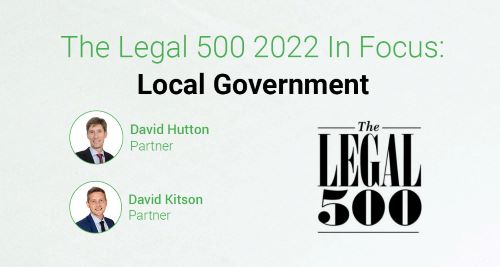 In the recently published Legal 500 2022 directory rankings, Bevan Brittan's national Local Government practice performed exceptionally well, maintaining its Top Tier ranking in Yorkshire, London and the South West.
Individually, Partner Head of the firm's Local Government practice, David Hutton, was named as a 'Leading Individual' across all three regions, while fellow Partner David Kitson was named as a 'Next Generation Partner'. We caught up with both to delve a little deeper into another successful year.
What makes this a standout year for you and your teams?
It was an incredible year for all of us; with a very high demand for our advice and support from clients. During what has been a period of crisis due to the pandemic, we became the trusted advisors that clients turned to having supported the sector for over a decade. Where there were new issues, projects, challenges and disputes, local authorities turned to us. And when they were short staffed or their staff were struggling, we became an extension of their legal team, maintaining the flow of work and the breadth of the instructions we received.
New clients came along too, seeking a trusted advisor to turn to – one that they knew had a solid reputation in the field – so they came to Bevan Brittan. While prompted by the crisis in local government, this standout year was a number of years in the making, with investment in this sector establishing ourselves as a market leader in local government, as we can offer breadth, depth and quality of service.
We also focussed on actively having more conversations with our clients throughout this period – for many the most challenging they have ever known. This is testament to the fact that we work together with clients, not just for them; we are there speaking with them day to day as we genuinely care about them, and immerse ourselves in their world to really get under the skin of their daily challenges.
Which cases/projects are you most proud of and why?
We have been involved in a number of impactful projects throughout the year! A few highlights:
Sunderland City Council's 5G procurement – advising the council on its project to rollout 5G across the city region; a major part of the city's digital transformation programme as a UK 'smart city'.
Cardiff Arena – acting for Cardiff Council on the proposed development of a new 15,000 capacity arena in Cardiff Bay. This is key project for the Council which will bring significant long-term benefits to the Cardiff area, and will hopefully encapsulate the desire to return to a form of normality with larger gatherings in person in the future.
Northamptonshire Children's Trust formation – one of numerous support projects we have been involved in for children's services during the pandemic. We advised Northamptonshire County Council on the development and launch of a new children's services company, Northamptonshire Children's Trust (NCT), delivering children's social care services on behalf of the Council. More broadly we support councils providing ongoing support for vulnerable children in a variety of ways, including fostering and adoption.
Welsh Government PFI/PPP project – we advised the Government and 28 participating colleges and Further Education councils on the creation of a new procurement structure that will enable them to deliver new educational facilities.
More broadly, we continue to work closely with Lawyers in Local Government (LLG) to provide support to lawyers across the sector. We have been asked to draft and provide guidance to LLG members on a wide range of issues, and that's been very well received, notably around the move to remote meetings and then switching back to in-person meetings again. We've got a really strong relationship with LLG and that's been another strong positive for us over the past year.
Looking ahead, what themes do you see emerging in the local government sector over the next 12 months and what do you hope to achieve?
In terms of key themes, we anticipate change, change and more change, with more demand and less money for local authorities. There will be many triggers for change in local government, whether that's the Environment Bill and what it means for net zero, adult social care, children's services, devolution or reorganisation and the interpretation of levelling up, access to more and different funds of cash.
All of this is against the backdrop of a lack of money, and the demands on councils are only going to increase. As one example, they are facing pressure to address the demand for adult social care and children's services, plus challenges around the rise in domestic abuse and the cost of living 'EFF' challenges (energy, food, fuel).
Commentators say there is a perfect storm for homelessness on the horizon. This will lead to more scrutiny, more challenges and more disputes, not to mention a need to create new ways of funding for what needs to be done. It's quite a stark picture, but these services need to be performing to the required standards – that's going to require creative and strategic thinking and, where needed, legal input. We are well placed to continue to support these changing needs.
As a team, it's a case of more of the same to come; we can offer a breadth of expertise, standing and knowledge in the sector, so we're here to continue delivering and guiding clients through this change in both the short and long term. As our Legal 500 results indicate, we are highly valued in the sector, so we will keep working together to help clients get to where they need to be.
Over the coming year we are also looking to combine our offering around infrastructure support, comprising subsidy control, procurement, property regeneration, planning, construction, governance, funding. We also do a lot of varied dispute work, so we'll be looking to combine all of this and become the go-to firm for any manner of dispute a client might have.