In this edition of our Promotion Spotlight we talk to two of the 13 newly promoted Bevan Brittan Associates. Nathan Osoria and Thomas Graham discuss the work they do, their time at the firm and what they hope to achieve in their new roles.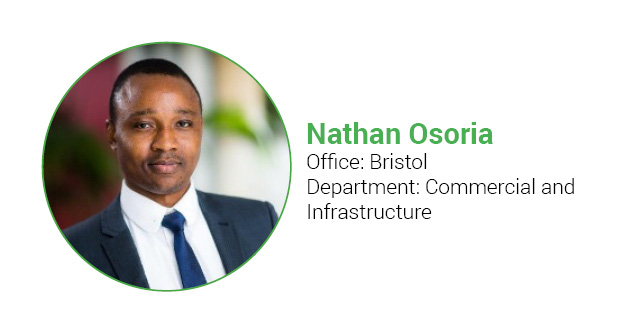 What is your area of expertise?
I work in the Construction team on the non-contentious side, with a focus on various aspects of construction documentation. I tend to be involved in construction projects from inception to completion. Examples of the types of documentation I work on include professional service appointment, pre-construction services agreement, letter of intent, construction contract, security documentation, as well as third party documents (such as collateral warranty, third party rights and letter of reliance). My role involves advising, drafting and or negotiating such documents for clients with the aim of helping them to achieve their objectives.
How long have you worked at Bevan Brittan and what made you want to join the firm?
I joined as a Solicitor in March 2020, right at the start of the pandemic which was an interesting time! I was keen to join Bevan Brittan because of the nature of the work and the size of the projects. A lot of the work we do has a significant positive impact on the wider community which is important to me. For example we do a lot of work for the NHS, helping them to build new hospitals or expand existing ones. We work with other health providers on projects such as the reconfiguration of existing health facilities, and also on local authority regeneration schemes such as the expansion of existing road networks, construction of new leisure centres in deprived areas. We are currently working on a landmark entertainment project.
What do you enjoy about working here?
As well as getting to work on exciting projects, I also like the structure of the business. The Partners and other colleagues are easy to talk to so you are constantly learning as you work. Despite a lot of our work being done virtually, we still maintain great relationships and a supportive working environment.
What does the future look like for you?
I am looking forward to working in my new role and supporting the team as we expand, particularly with helping junior team members get to grips with the more difficult aspects of construction. I also want to continue working on incredible and exciting projects, maintaining a high quality service for our clients.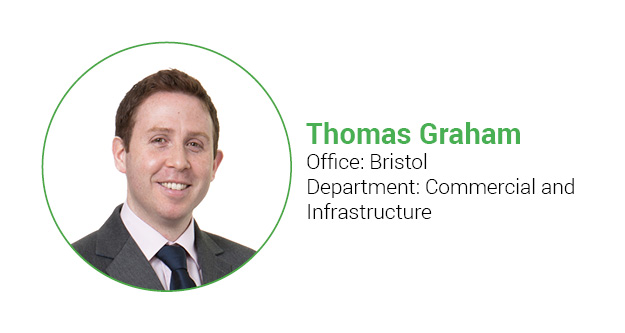 Tell us a bit about the work you do.
I work in the Energy and Resource Management team and my role involves advising clients (including contractors, developers, investors, local authorities, universities and NHS trusts) on a range of services contracts and infrastructure projects within the energy and waste sectors. I draft, negotiate and advise on contracts relating to district energy/heat networks, decarbonisation, energy efficiency and environmental services projects amongst others.
When did you join Bevan Brittan?
I came into law as a second career (having previously worked in the civil service) and joined Bevan Brittan as a Trainee Solicitor in September 2014. Having researched the firm, I knew about its reputation in the delivery of key infrastructure projects and public services, the work sounded interesting and I thought overall it would be a good fit.
What do you like about your role and working at the firm?
I enjoy the variety of the work I do and the fact that it is relevant to wider environmental, social and economic issues, for example the net zero/decarbonisation agenda and the delivery of clean and affordable energy.  Another aspect is that the people here make it a friendly and collaborative place to work. I feel fortunate to have learned from colleagues who are very good at what they do but also down to earth and approachable. 
What are you hoping to do in your new role?
I would like to continue working on a mix of interesting and challenging projects whilst helping to grow the Energy and Resource Management team. It is exciting to be involved in such a fast moving area which seeks to address issues around energy security, decarbonisation and resource management. I am also looking forward to fully embracing hybrid working and seeing more colleagues in person when I am in the office.