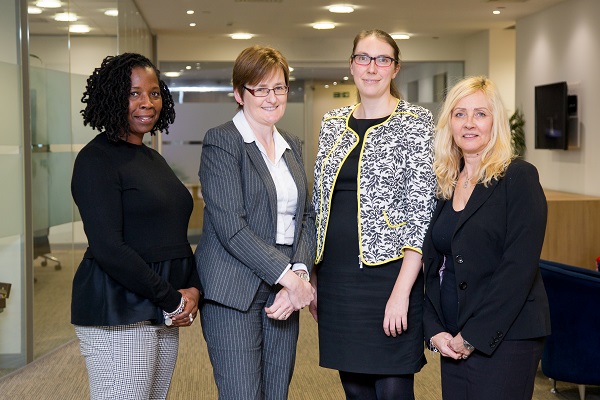 Pictured L-R: Janice Richards, Wendy Wilks, Fiona McDonald, Kim Watson 

Bevan Brittan LLP has expanded its capability in the property, housing and care sectors with the hire of an industry-leading legal team.
The team joins from Dentons - and includes Wendy Wilks (partner), Fiona McDonald (senior associate), Kim Watson (paralegal) and Janice Richards (personal assistant). The team will be based in Bevan Brittan's London office.
The team will continue to work with their current clients and also a range of Bevan Brittan clients within the housing, property and care sectors - including registered providers, landlords, developers, funders and care companies amongst others. They will continue to advise on matters including property, property development, property finance, governance, estate regeneration and management, and due diligence transactions.

Wendy Wilks said: "I, with others in the team, am delighted to be joining Bevan Brittan which has a strong and growing reputation in the housing and care sectors.
"We are excited to be aligning our experience with the considerable quality and breadth of services at the firm, and look forward to providing a first-class advice to clients throughout England and Wales.
"There remains an urgent need to provide quality affordable homes, and to find the right legal solution to put in place transactions and partnerships working with other entities, authorities and agencies to make that happen. We will continue to support all our current clients and their transactional work on which we have been advising."
The team from Dentons is ranked for its social housing work in both the Chambers and Legal 500 directories and also for social housing finance work in Legal 500.
This year, Bevan Brittan's social housing expertise also received national recognition when Chambers ranked more than half its partners, and two of its social housing practice areas achieved 'band one' status. Legal 500 named 12 Bevan Brittan partners as 'leading lawyers'.

Jonathan Turner, head of housing at Bevan Brittan, said: "I would like to welcome Wendy, and the capability and experience that she and her team will provide to Bevan Brittan. With the joining of a London based team, the firm now has a considerable national presence across the housing, care and property sectors that can offer not just understanding of the law, but also market knowledge of opportunities, partnerships and introductions that will be of value to our clients."
Bevan Brittan managing partner Duncan Weir said: "Our financial results this year have demonstrated our ability to deliver sustainable growth upon a sound financial platform and provide an excellent service for our clients.
"I would like to welcome Wendy and her team to Bevan Brittan. They will help us support a significant number of housing and care providers across England and Wales, within our vibrant housing, property and care practices.
"Our strategy remains clear: to continue investing in our focused markets, to invest in our legal talent and new technology, while staying alert to new opportunities in a fast-moving and changeable environment."