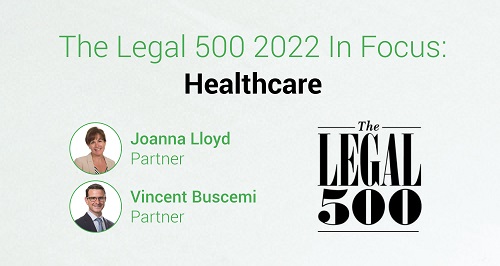 The Bevan Brittan Healthcare teams had another set of impressive results in the recently published Legal 500 2022 directory rankings. Their hard work and client focus has resulted in their continued Tier 1 ranking in London, the South West and Yorkshire.
Partners Joanna Lloyd, who works closely with NHS clients, and Vincent Buscemi, who specialises in commercial, corporate and regulatory law, were both named 'Leading Individuals' by Legal 500. We spoke with them to learn more about the past year in the health and social care sector.
What makes this a standout year for you and your teams?
This year has demonstrated how much our clients trust us for support. The Covid-19 pandemic has shown many aspects of the health and care system at its absolute best but also the difficulties between the NHS and social care systems. It was a privilege this year to stand shoulder to shoulder with our clients – whether providers, operators, funders or investors – as they reacted to the pandemic and we've helped them through some very difficult times. They were struggling with a variety of complex issues that had real impact on their organisation from a financial perspective, but also operationally and strategically, so we were proud to be there for them.
The feedback we have received has been humbling, with clients commenting that what set us apart is our ability to work with strategic partners as a single, cohesive and coordinated delivery team; 'the cavalry to overcome a potentially desperate situation'. It's this sort of feedback that makes working here so rewarding, as our clients have really made us feel like we're their partners rather than just their lawyers.
Another thing that stuck out from the last year was the sheer number of clients and transactions we got involved with. We acted for just under 300 clients on around 700 matters, and we dealt with over £350 million worth of healthcare business asset transactions last year. In doing that we were recognised again by HealthInvestor as 'Transactional Legal Advisors of the Year', along with 'Law Firm of the Year' at the Insider South West Property Awards 2020, and 'Public Sector Law Firm of the Year (outside London)' at the Legal 500 Awards 2020. Demonstrating we have a market-leading team of multidisciplinary subject-matter experts and specialists who can provide a depth of service to them regardless of who they are or what their business is.
Which cases/projects are you most proud of and why?
One thing that really stands out is how many other law firms recommend us to their clients. Last year we advised on a range of matters alongside some major international firms who came to us for our expertise on several significant transactions. We're also very proud of our Covid response work.
There are multiple examples of work we are proud of, but to name a few:
Supported the opening of Nightingale Hospitals in Bristol, Exeter and Birmingham, having set up a dedicated Covid-19 Taskforce.
Supported the NHS with the establishment of the Covid-19 vaccination hubs at venues including football stadiums and museums.
Assisted on the acquisition of McCarthy and Stone, a £647m transaction.
Worked with NorthWest Healthcare Properties REIT on a variety of real estate and regulatory matters relating to its acquisition of NMC Health.
Worked with Barchester Healthcare on the £160m purchase of 24 care homes to add to their portfolio.
Acted for Larchwood Care on a £173m divestment of care business.
Completed the acquisition of five GP practices over the course of two days with an excellent multi-disciplinary team approach to get those deals over the line in a short space of time.
Worked with a number of medical device manufacturers to get fast-track approval for the supply of medical device grade PPE into the market.
Worked very closely with one client's clinical and operational colleagues with a multifaceted response to Covid-19 and the response necessary to implement the Coronavirus Act 2020. This included increasing capacity to treat through staff deployment and redeployment, contracts for commissioning a Nightingale Hospital, a vaccine programme to slow the virus, support with complex clinical ethics / legal issues, and developing MOUs for staff sharing and collaborations, all whilst ensuring respect for the dying.
Looking ahead, what themes do you see emerging in the healthcare sector over the next 12 months and what are you most looking forward to working on?
The changes on the horizon will be extremely important for us in a very fragmented market, with consolidations within different parts of the health and social care markets and the emergence of new entrants.
From an investor perspective, health and care are is seen as being a safe area to potentially invest their money, but non-health and social care businesses are also beginning to diversify into the sector. We're seeing a lot of that already and are expecting more of that to continue. We believe we're well placed to work on these sorts of projects and transactions because of the breadth and depth of our skill set and our experience. Those transactions bring our multi-disciplinary team together from corporate, commercial, real estate, banking, regulatory and employment – it provides the opportunity for us all to work together with our client's project team and other advisors, and that's really exciting.
On a more macro level there's ongoing operational and strategic issues caused by workforce shortages, international recruitment challenges that leads to retention and recruitment difficulties for operators, increased costs due things like rising fuel cost and rising national insurance costs. All of that impacts our market and will lead to operational challenges for our clients.
Taking on board the changes envisaged by the Health and Care Bill, we want to support our clients as they adapt to the ICS landscape whilst returning to business as usual, notwithstanding the pressures of clinical backlog and a depleted workforce. The disciplines that make up our health teams will continue to work together to present solutions to our clients in areas such as: integrated working, infrastructure, key worker accommodation, income generation schemes, and patient safety initiatives and in so doing play our part in NHS Reset.