Introduction
On 6 December 2021 the government published its response to the Green Paper on proposed reform to public procurement. A link to the response can be found here.
This is the eighth in a series of articles which the procurement law team at Bevan Brittan LLP are producing on what the proposed reforms will mean for the public sector and suppliers. Each article will give practical commentary on the different themes within the proposed reforms.
Here is a menu of what we will be covering, with links to each Part which will become live once each Part is published:
Transparency
In section 8 of our Road to Reform series of articles covering the government's response to consultation on the proposed reforms to the public procurement regime we consider the duty of transparency. In particular, we consider (1) what notices contracting authorities will be required to publish throughout the procurement process (2) what will be the new debriefing requirements and (3) using the Open Contracting Data Standard.
As laid out in the Transforming Public Procurement Consultation Paper, the principle of transparency in public procurement is central to the integrity and accountability of the system and the fight against corruption. It ensures that decision-makers are held accountable for spending public money and helps open up public procurement to more effective competition that, in turn, can deliver better value for money. However, the government is of the view that under the current regulations, transparency by contracting authorities remains inconsistent; there is uncertainty about redaction of commercially sensitive information and there remains data gaps and limitations that make it difficult for organisations (both public and private) to understand the full pattern of government procurement spend. The government therefore intends to introduce a number of changes in an attempt to increase transparency in the public procurement regime.
What notices will need to be published?
The government intend to introduce procedural obligations at each stage of the procurement process setting out more explicit publication obligations that will provide clarity to contracting authorities on exactly what they need to publish.
Implementation of the Open Contracting Data Standard (OCDS) also requires a revised set of contract notices aligned to OCDS (see below for more detail on this). As such, contracting authorities will have to publish a number of different notices throughout the lifecycle of a procurement. We summarise the notice(s) required under each stage below.
Planning Stage
Planning and Pipeline Notice – this notice will contain advance information on planned procurements for contracts valued over £2m. However, the requirement to publish this notice will only apply to contracting authorities that reasonably expect to have more than £100m third party spend in any financial year.
Pre-Market Engagement Notice – this notice is to be used by contracting authorities if they choose to carry out pre-market engagement, unless there is a valid reason not to publish such a notice. It is not clear what would constitute a "valid reason". The intention seems to be that this would replace the Prior Information Notice which is currently used to start pre-market engagement.
Tender Stage
Tender Notice – this is the notice that will be used to commence a competitive procurement. It will advertise the opportunity to providers and alert the market to an upcoming opportunity.
Award Stage
Award Notice – once a contracting authority has identified the Most Advantageous Tenderer, this notice will be used to confirm the contracting authority's intention to award a contract. It will notify the market of the outcome of the procurement and must contain (1) the anticipated contract value and description and (2) identities of all bidders. Release of this notice will also start the standstill period (where required or commenced voluntarily).
Contract Commencement Stage
Contract Detail Notice – once a contract has been awarded, a Contract Detail Notice will need to be published containing information on the contract including details of the supplier. Note that if the total value of the awarded contract is over £2m, a redacted version of the contract will need to be published. This threshold may be lowered in the future. The government has stated that it will provide clear guidance on disclosure of information and appropriate used of redactions.
Contract Implementation Stage
Contract Implementation Notice – for contracts above a certain value threshold, contracting authorities will be required to update a Register of Contract Performance with the key performance indicators. The relevant threshold that this notice will apply to is still to be confirmed.
Contract Change Notice – this notice will be used to confirm any amendments to the scope or value of the contract where there is change of 10% of the value for a goods or services contract or 15% for works contracts or an increase in the duration of any contract of 10%.
End Of Contract Stage
Contract Termination Notice – when a contract has terminated (either through natural expiry or other means), a Contract Termination Notice will need to be published confirming that the contract has come to an end.
Debriefing information – what information and/or documents will need to be provided to bidders?
Arguably one of the biggest anticipated changes in relation to transparency requirements expected to be introduced under the public procurement reforms is that it will no longer be mandatory to provide bidders who have participated in a procurement with debrief letters, as currently required under regulation 86 of the Public Contracts Regulations 2015. However, the consultation response makes it clear that the intention is not to be provide less information. The government intend the debriefing process to work as follows: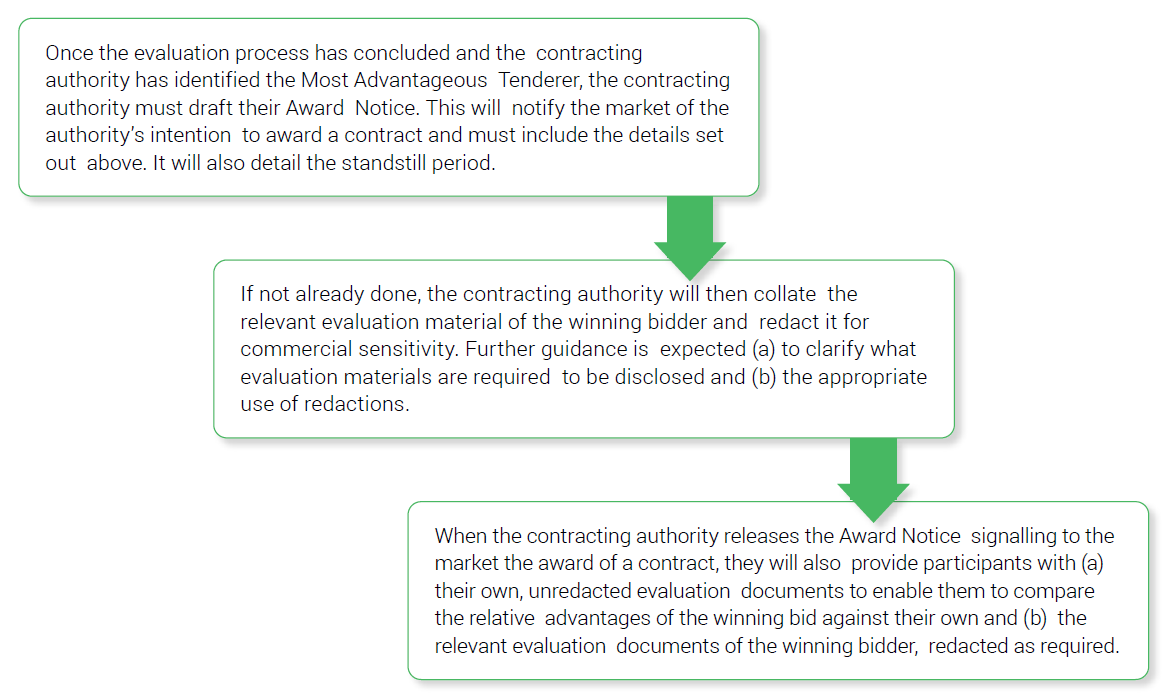 Contracting authorities may, if they choose, provide individual covering debrief letters to bidders (which may include feedback on improving performance) but this may not be appropriate or possible in all circumstances.
Whilst we are still expecting further guidance on what evaluation materials must be included (e.g. does this include individual and moderation scores?), the government have confirmed that it will not require disclosure of tenders submitted in the procurement.
As evaluation material of some form will be provided to every bidder, it will be paramount that there is a detailed and comprehensive audit trail of the evaluation process which has been undertaken. It will be important to ensure that the notes capture the rationale for any score reached and, where required, the reasons why individual evaluators may have moved their score during moderation. It will also be prudent to ensure that all evaluators and moderators have been provided with adequate training on how the evaluation process will work and what is expected of them.
Open Contracting Data Standard
What is the Open Contracting Data Standard?
The Open Contracting Data Standard (OCDS) is a free, non-proprietary, open data standard. The OCDS describes how to publish and enable disclosure of data and documents at all stages of the contracting process. It was created to support organisations to increase contracting transparency, and allow deeper analysis of contracting data by a wide range of users. The government is of the view that adoption of the OCDS will significantly improve data quality and interoperability.
What will contracting authorities be required to do?
The government proposes to legislate to require all contracting authorities to publish procurement and contracting data throughout the commercial lifecycle in a format compliant with the OCDS. This means data for buyers, suppliers, contracts, spend and performance would be held and published in OCDS-compatible, open, non-proprietary reusable formats. It will therefore be important for contracting authorities to become familiar with the OCDS and what formats are compliant.
The government intends to set out a timetable for all e-procurement and related systems across the public sector to become OCDS compliant. It is recognised that contracting authorities' e-tendering system providers will provide an important role in taking this forward. The government therefore intends to work closely with these providers in implementing OCDS.
If you would like to discuss this topic in more detail, please contact Victoria Croshaw, Solicitor.