Bevan Brittan was delighted to win the prestigious 'Legal Advisors of the Year – Private' award at the HealthInvestor Awards that were presented at the Grosvenor Hotel in London on 12 June.
This award reflects the highly successful progression for the firm, having been shortlisted for the private award for the first time last year.
It also further extends Bevan Brittan's proud record in the awards, having won two public sector awards for the previous two years running, and having also been shortlisted this year for public legal advisors of the year and for transactional advisors of the year.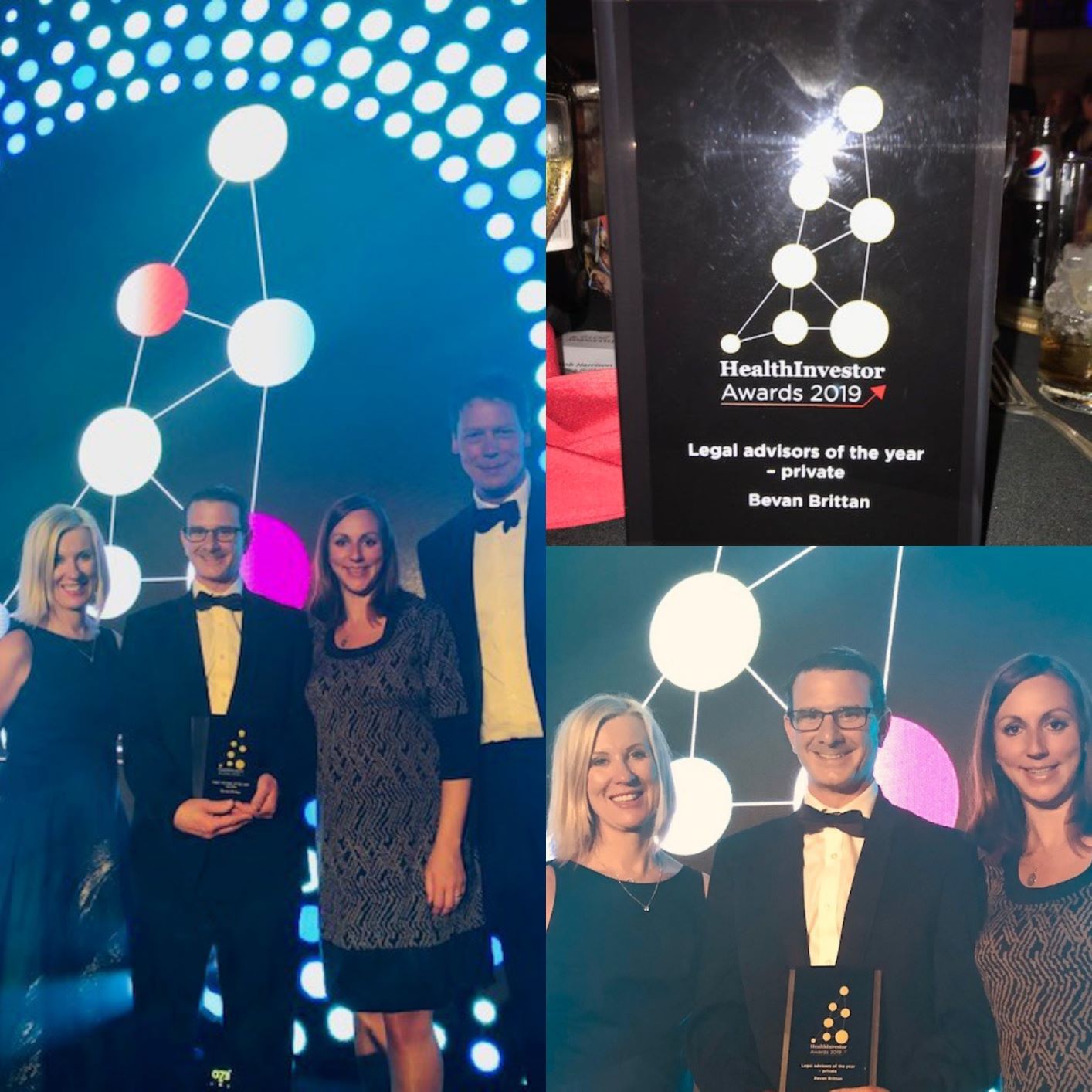 The HealthInvestor Awards promote excellence and recognise outstanding performance in the healthcare sector. They are one of the top events in the annual calendar for the industry with some 1,200 guests at the awards evening.
Bevan Brittan's practice advising independent health and social care providers has rapidly expanded in recent years, working with over 150 clients. The judges praised the firm for its "long list of transactions and particular sector and regulatory expertise".
Clients that the firm's independent health and social care team have worked with in the last year, include Schoen Clinic, Barchester Healthcare and Care Management Group.
Vincent Buscemi, Partner and Head of Independent Health & Social Care at Bevan Brittan, said: "We are absolutely delighted to win this award, which provides such great recognition for the work of the whole team and is a testament to the excellent clients we have the privilege to work with. These are awards that everyone in the industry wants to feature in, so we couldn't be happier to win.
"Our practice has grown significantly in recent years as we support and advise a wide range of clients, from established UK and international players to start-ups, with commercially focused regulatory advice, commercial and corporate transactions, compliance and workforce matters, information law and more. We look forward to continuing to support the independent health and social care sector in the years to come. It is a fundamentally important part of our healthcare system, delivering outstanding care to service users all around the country."
For further information about how we provide support for independent healthcare providers and suppliers, please visit: www.bevanbrittan.com/independenthealth