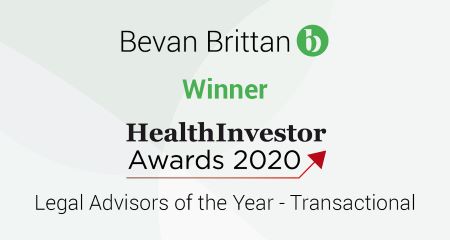 Bevan Brittan has won the prestigious 'Legal Advisors of the Year – Transactional' award at the HealthInvestor Awards 2020.
This is the fourth consecutive year that Bevan Brittan has won a HealthInvestor award and in 2019 the firm was named 'Legal Advisors of the Year – Private'. The firm has also previously won the 'Legal Advisors of the Year – Public' award.
The HealthInvestor Awards, which took place via a virtual ceremony this year, promote excellence and recognise outstanding performance in the healthcare sector.
This continued recognition at one of the sector's most prestigious events demonstrates Bevan Brittan's ability to provide clients with a market-leading, multi-disciplinary health and social care team. Made up of over 60 partners and 200 lawyers specialising in corporate and commercial, property, litigation, regulatory, patient safety and employment legal advice.
The firm now works with 170 independent health and social care operators, over 60% of all NHS Trusts and major health and social care suppliers, funders and investors on a wide variety of corporate, commercial and real estate transactions.
Reacting to the positive news, Vincent Buscemi, Partner and Head of Independent Health & Social Care at Bevan Brittan, said: "On behalf of our team, I am so proud to win this award. We have supported our health and social care clients through very challenging times this year with a broad range of corporate transactional work, including mergers, acquisitions and refinancing. Ultimately, we can't do the work without our fantastic clients, who come to us for advice when they need it most. We feel incredibly privileged to serve the clients we do and it is to them that I would like to dedicate this victory."
Joanna Lloyd, Partner and Head of Health (NHS Providers and Commissioners) at Bevan Brittan, said: "To win this prestigious accolade is excellent recognition of our market-leading service. We continue to work in partnership with NHS Trusts across England, providing advice on an array of transactional matters including bespoke joint ventures and other partnering arrangements, estates and infrastructure projects, internationalisation and key worker accommodation schemes.
"I am especially proud of the way our teams have adapted to the complex and varied needs of our clients during the COVID-19 pandemic and continue to provide them with the advice they need to navigate this rapidly evolving legal and regulatory landscape."
For further information about how we provide support for independent healthcare providers and suppliers, please visit: www.bevanbrittan.com/independenthealth