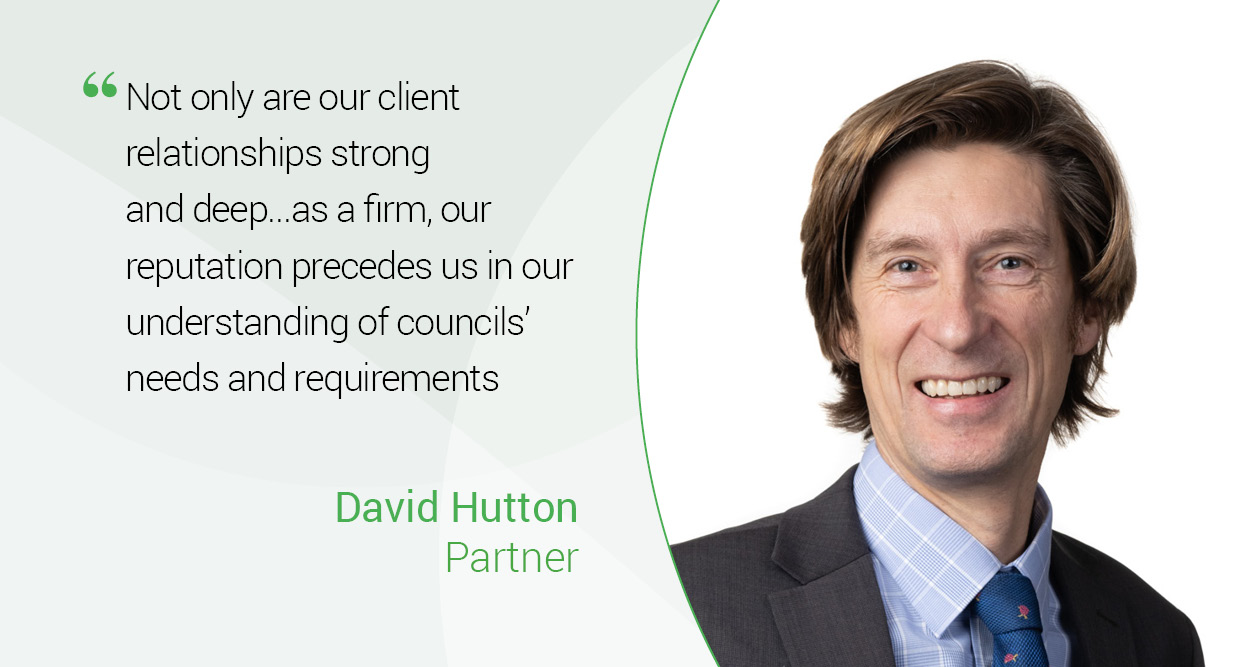 Bevan Brittan's Local Government practice performed well in the newly published Chambers & Partners 2021 directory guide, with a Band 1 (UK-wide) ranking.
In our latest Chambers Spotlight interview, we caught up with Partner David Hutton, who leads Bevan Brittan's Local Government practice.
What has made this such a successful year for your practice?
Bevan Brittan is positioned as the largest Local Government practice in the UK. As well as breadth in expertise, we have got depth in the number of colleagues that can support in all aspects of legal requirements that councils may require. These requirements change and adapt as we do.
A marker of our success this year is a significant number of repeat client instructions. This suggests that not only are our client relationships strong and deep, but also that as a firm, our reputation precedes us in our understanding of councils' needs and requirements. We work alongside council teams and appreciate how advice needs to be provided; have an awareness of the political context and the scrutiny that accompanies decisions and that practical solutions need to be found. As many of us have devoted a large amount of time working either in or with the sector, we are very in tune with how legal advice needs to be provided, and we listen and respond to the politics and any social implications. Having that empathy and understanding can make us a safe choice when external advice is being sought.
As well as our more regular work, we have started to see new types of work opening up. Examples of this range from Local Government Reorganisation (LGR) support, to work for the most vulnerable including around arranged marriages and Deprivation of Liberty claims: supporting little used powers around empty homes, and of course the wider climate agenda demands for district heating; retrofit; transport policy and governance issues.
What types of advice have you been providing over the last 12 months?
Our work tends to fall broadly into five different areas, and these are not immediately reflective of recognised legal skillsets. It reflects the type of instructions we receive that have many constituent parts:
Delivering value/new ways of working. Whether delivering services differently or optimising income we have extensive experience. Most recently, for example, we have created a number of children's trusts; many Teckal and other companies, advised on raising funds through bonds, and strategic partnerships for delivering technology solutions.
Place agenda. We work on a range of large developments (housing, mixed use, social infrastructure, commercial, and wider including arenas), advising on the creation and delivery through housing companies and other models, also supporting on subsidiary issues including retrofitting of homes, district energy, and transportation issues. This work is only going to accelerate as a result of the pandemic and the reimagining of places.
Governance and reorganisation. We have been involved in a number of the LGRs to date and those that are proposed, undertaking regular work in advising on all matters around governance decision making and complaints. One element that has heightened due to the pandemic is behaviour around social media.
Contract management and disputes. Our work involves supporting clients in delivering infrastructure and services, ensuring they get value from their commissioning and procurement processes and their contracts. This can include enforcement, termination or exit issues – and increasingly so for all manner of outsourcings. We advise on many HR issues including around exits that are in the news with new regulations capping exit payments.
Climate change. This has developed for us in the last year. The pandemic is highlighting the need for climate responses to declared emergencies, including a whole range of work in district energy, retrofitting, Electric Vehicle (EV) charging and more. It is an area that is expanding significantly.
In summary, to help our clients, we do one of three things:
achieve outcomes;
fix problems;
avoid pitfalls, challenge or failure.
What do you think are the opportunities and challenges faced by this market over the next 12 months?
I see three main challenges facing the Local Government market over the next 12 months:
Financial constraint. There is ongoing uncertainty in relation to future funding of local government, which is a huge challenge. The support provided by Central Government can be unpredictable and the competition for grants does not offer stability.
Trying to create a more constructive relationship with Central Government. Any attempt at levelling up can be upset (see the issue with Greater Manchester most recently) without greater clarity. The sector awaits the White Paper on Devolution but there is a growing sense that an appropriate devolution of powers and funding is needed.
Ongoing uncertainty. Not necessarily in relation to the pandemic itself, but of the future of services and demands. The pandemic has highlighted underlying inequalities, councils have more vulnerable people to serve than before and different demographics. The care sector takes the majority of the money and the pandemic is causing any business model to be undermined (with voids in care homes), so the long delayed Green Paper on adult social care exacerbates solutions being found.
However, with these challenges comes opportunities, and significant ones.
The Solace Summit in October was titled 'Reflect. Reset. Re-imagine', which indicates the extent of new opportunity presented in the face of the pandemic, and the necessity not to go back to what was there before. The sector and society is learning lessons and most do not wish to revert to the previous life. But what lessons are there to learn? What are local communities going to need in the future? This offers an opportunity for transformation, and perhaps a redirection of resourcing. Part of this will undoubtedly be a national debate on the opportunities to make a fairer society and 'level up' to iron out the inequalities highlighted by Covid-19. And this presents challenges and opportunities in the work we do now and hope to do in the next 12 months and beyond.