The UK has some tough challenges in meeting its targets for greenhouse gas ('GHG') emissions. The Government recently pushed through a change to the 2008 Climate Change Act, with the effect that the UK has a legally binding target of producing zero net GHG emissions by 2050 (from 1990 levels).
In achieving this goal, there's widespread consensus that tackling energy demand and carbon emissions in domestic properties (that account for around 30% of energy consumption and 27% of the UK's total carbon dioxide emissions) will make a substantial difference.
For local authorities and registered providers ('RPs') – who want to live up to their environmental promises and green credentials – that means starting with the UK's social housing stock, and adopting the technologies that will help turn the tide.
According to the Sustainable Energy Association, a combination of deep retrofit of existing social housing, far greater standards in new-builds and rapid market growth of low carbon heating systems is now required. Repairing these properties to a high standard, with insulation and renewable energy technology, will cut consumer costs and bring other benefits, such as improved health and wellbeing.
Policy initiatives
The UK Government and devolved administrations are, of course, supportive on the need for better home carbon efficiency. The Government's Clean Growth Strategy includes plans to roll out low carbon heating to homes, and contains aspirational targets for as many homes as possible to have an EPC energy efficiency rating of band C by 2035.
More recently, in response to the Committee on Climate Change's ('CCC') 2018 annual report to Parliament (a body set up to advise and report on the UK's progress in complying with the Climate Change Act 2008), the Government indicated that it aims to halve the energy use of new buildings by 2030, and to publish a decarbonisation roadmap for the public sector in 2019.
Local authorities are doing their part too. Over half of all UK councils have declared a 'climate emergency' recently, many setting themselves targets of being carbon neutral by 2030 – 20 years ahead of the Government's target.
For example, Bristol City Council, being the first local authority to declare a climate emergency, published a Climate Emergency Action Plan this July that committed them to encouraging initiatives. Examples include aiming to install solar panels on 10,000 council-owned homes through the City Leap Energy Partnership, and to ensure that all new homes built or grant-funded by the Council meet existing planning policy to reduce carbon emissions by 20% through on-site renewable energy generation.
However, despite these efforts, current reading is bleak. The latest publication by CCC indicates that we will not meet our legal obligations to cut carbon emissions without the near complete decarbonisation of the housing stock, something that is not on track to happen.
In response, the wider public and social housing sectors – together with the energy industry – are looking for stronger policy initiatives that would kick-start a programme of wide-scale upgrades to social properties across the country.
Retro-fit
The buzzword in the sector is 'retro-fit' – a term that covers a wide variety of home energy improvements. At the top end of the scale, investments can involve:
A new thermally efficient wall 'wrapper' created with prefabricated panels manufactured offsite
Photo-voltaic ('PV') heaters built into a thermally-insulated roof that also generate electricity
Air source or ground source heating
Removal of gas to create an electricity-only property.
Comprehensive retro-fitting to 2050 standards can be costly. The Institution of Engineering and Technology and Nottingham Trent University says large programmes of retro-fit of housing, which would reduce costs at scale, is still at the planning stage in the UK. But some local authorities have already started initiatives to substantially increase the thermal efficiency of their housing stock with the aim of reducing demand for heat to keep houses warm.
Two key pilot schemes being watched carefully by the social housing sector are using a system called Energiesprong, that was pioneered in the Netherlands. Nottingham City Homes, which manages and maintains council housing stock, has upgraded 10 homes in Sneinton using this system – and plans a further rollout to 155 hard to heat homes.
All will be upgraded with new highly-insulated outside walls and windows, a solar roof, battery storage, and PV heaters. Household energy demand is being greatly reduced, and what energy is needed can mostly be generated on site via smart use of renewable energy technologies.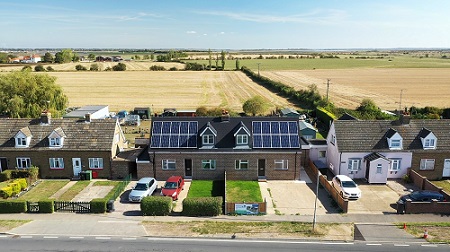 Image courtesy of Engie
Moat housing association is also retro-fitting five homes in Maldon, Essex, using the same Energiesprong model. Occupiers are offered a 'performance guarantee', via which they are charged a fee by the association. The aim is that this income - and the expected maintenance cost and energy savings over a 30-year period - will cover the cost of the work.
Overcoming barriers
A barrier to large-scale retrofitting of the existing housing stock is that costs are currently too high, and that there isn't a construction and supply chain with the capability and capacity to deliver in volume and at speed.
The Government has been recently criticised for ending zero carbon home standards for new builds in England and cutting funding for energy efficiency schemes in a bid to reduce 'green levies' on energy bills.
It is suggested the move has led to a slowdown in the rate at which insulation and other measures are fitted. Last year, for example, only 1% of new-builds were in the highest band for energy efficiency ratings (Energy Performance Certificate band A) according to the CCC.
It has led to claims that local authorities do not have sufficient resources to address these concerns.
So, local authorities are now seeking firmer Government policy on retro-fit – and any incentives such as subsidies, grants and other benefits that may eventually result. But by collaborating on projects, local authorities, RPs and agencies can already reduce outlay – in the same way they do already on successful regeneration schemes.
Projects will still need careful risk management with contract terms and conditions that are attractive to investors, and to the finance and construction sectors. Costs will inevitably fall as volume increases, larger programmes emerge and supply chain capability grows with the result of making deep retro-fit more economically viable. Businesses will also need expert advice to overcome the contractual and regulatory obstacles that they will face.
Local authorities and RPs have a real opportunity to develop schemes that can act as a catalyst for urban renewal and economic growth, especially when they take advantage of planning across the project lifecycle including real estate, planning, construction, financing and operations, and compliance with the Renewable Heat Incentive and eligibility criteria.
There will also need to be financial and regulatory oversight of the energy and financial schemes to which providers and consumers sign-up – in an effort to avoid any mis-selling or fraudulent activity that have marred other energy sector schemes.
The opportunity now
For local authorities and RPs, deep retro-fit of the existing housing stock represents a social and market opportunity.
New technology and better construction systems are now offering local authorities long term solutions to meet their 2050 obligations, overhaul sometimes poor quality housing stock and to help regenerate communities and 'places'.
Preventing vulnerable households from living in dangerously cold or damp homes will help tackle fuel poverty, rising energy bills and reduce pressures on health services.
A momentum is starting to build. Many local authorities and RPs are now developing new policies and plans for their estates to be zero-carbon for heating, near net-zero overall energy and resilient to future climate change.
For example, the Greater London Authority's London Plan Policy (which, amongst other things, sets criteria for granting planning permission for new developments in London) demonstrates the proactive role that public authorities can take in setting energy efficient standards above and beyond the current requirements set by law.
Since 2016 the Plan requires major residential developments to have a zero-carbon target. Developers must show how their development will result in a 35% on-site reduction in regulated carbon dioxide emissions (beyond the level required in the current building regulations regime) with any remaining emissions being paid for by way of a cash contribution to the relevant borough which will be ring-fenced for the purposes of delivering carbon dioxide savings elsewhere.
There is evidence that by combining the planned investment in the maintenance and refurbishment of their stock over 20-30 years with energy cost and other savings over the period, social landlords can make an economic case for investing in deep retrofit to upgrade properties to 2050 standards now.
In time, it is likely that a sophisticated UK market will emerge for deep retro-fit technologies that will benefit wide sections of the community including landlords and tenants, suppliers and contractors and also the private sector.
"ENGIE has an ambition to become a world leader in "Zero Carbon as a Service" and we're excited to be leading the way in the delivery of net zero energy retrofit works. The housing sector accounts for around 27% of the UK's carbon emissions and the Energiesprong concept therefore provides property owners with a vital tool as they look to play their part in mitigating the effects of climate change".
Andy Merrin, Head of Energy & Innovation
Engie