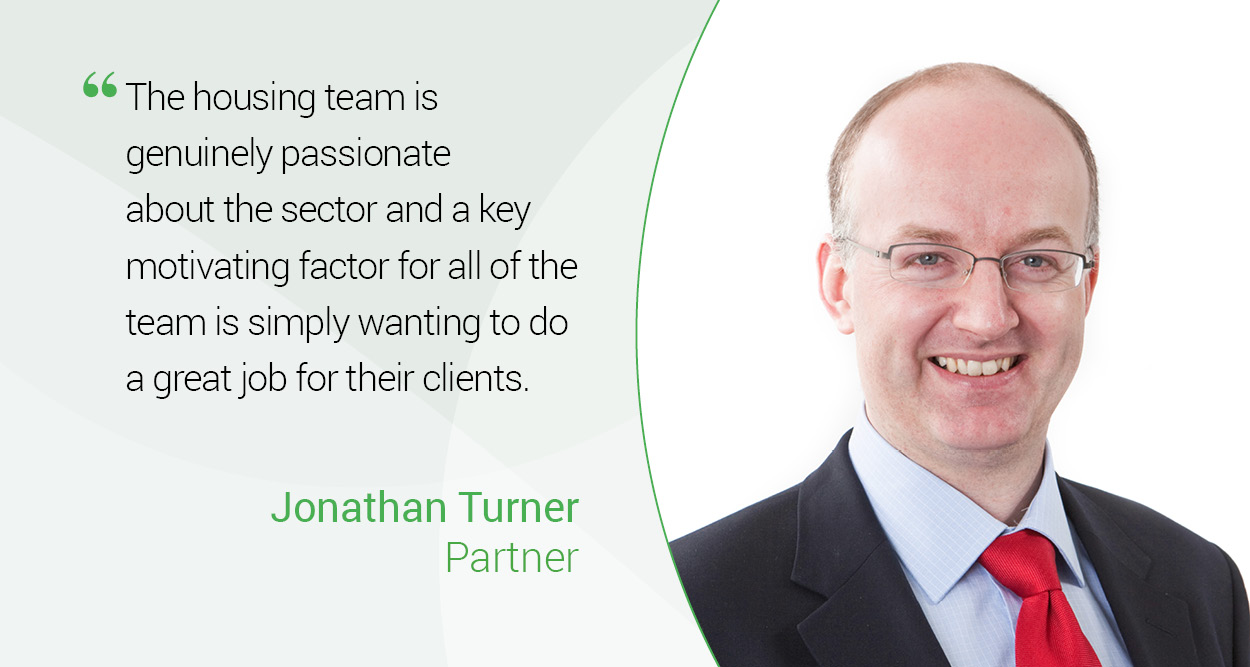 Bevan Brittan's Social Housing practice performed exceptionally well in the recently published Legal 500 2021 guide. Achieving two Top Tier rankings (South West and Yorkshire) and improving its rankings in London in both the Local Authorities and Registered Providers and Finance sub-categories.
We caught up with Head of the firm's Housing practice, Jonathan Turner, to discuss how the team's long-standing strategy has come into fruition.
What has made this such a successful year for your practice?
A number of years ago we set a goal for ourselves to be a full service housing practice providing genuinely helpful advice to clients.
We have worked very hard to provide a great service for our existing clients whilst growing the team's national reach and broadening out the services that we offer. Recognition of this in the directories is fantastic as it shows the progress that we have made.
We have been developing the strength and depth of our governance, corporate and finance teams and this is evidenced through bringing in a new banking and finance team headed by Louise Leaver and the promotion of Sarah Greenhalgh to partner in our governance and corporate team. This is exciting as we can now provide even greater expertise and experience to benefit our clients.
The housing team is genuinely passionate about the sector and a key motivating factor for all of the team is simply wanting to do a great job for their clients – we really do focus on providing good quality, helpful, personal service, and genuinely trying to be by our clients' side.
What types of projects/advice have you been providing over the last 12 months?
A real variety and as such it doesn't seem right to single out anything in particular!
We have supported clients across the full breadth of their needs, from large-scale projects to implement mergers, corporate reorganisations and re-financings to a huge volume of development schemes, large and small, across the country to get new homes delivered.
If there is one area to pick out in terms of interesting changes in our business over the last 12 months it would be how our housing management team has adopted a range of delivery solutions using ICT and other process solutions to help clients' reduce their costs, but at the same time providing an efficient and high quality service.
Which clients have you worked with this year?
The Housing team at Bevan Brittan has built up a truly national practice and we advise clients across the country from our four offices based in Bristol, London, Birmingham and Leeds – though in the last 6 months this has really been from home!
We are fortunate to have built up a really great set of relationships and work closely with many of the largest associations but can also count many smaller regional associations as clients – all of which provide critical services for their customers.
What do you think are the opportunities and challenges faced by this market over the next 12 months?
The challenges faced by the social housing sector in the current climate are increasing in the current pandemic we find ourselves living in as their primary role is supporting people.
Covid-19 is inevitably making things more difficult for some people due to a combination of factors, both at work and home. The core purpose of housing associations is to help look after these people.
One of the challenges they face is providing more affordable homes. Alongside ensuring existing stock is both safe and environmentally sustainable – and this creates more challenges! All told there is a big requirement for funding, and with a worsening global economic climate, this could pose some difficulties for these organisations.
However, there is an increased focus on Environmental Social Governance (ESG) investment and with social housing organisations viewed as a safe harbour for patient capital and the right sort of investment profile, this does mean there are opportunities to exploit. By backing social housing organisations, funders are investing in people's futures and supporting organisations to provide safe, good quality homes – all of which will benefit society.
What do you hope to achieve as a team over the next 12 months?
We want to keep it simple by providing really good quality, commercial and supportive advice to our clients to help them overcome their current and future challenges. If we can do this then we will continue to work alongside our clients as their trusted advisors.