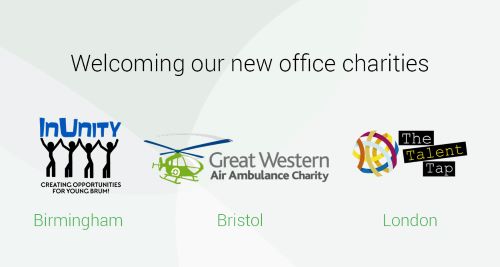 Bevan Brittan has chosen new local charities to support in three of its offices as part of its Responsible Business programme.
The firm's Community Engagement Committees in its Birmingham, Bristol and London offices have chosen the charities they would like to fundraise for following nominations from staff at the UK Top 100 law firm.   
The chosen charities are:
InUnity is a social mobility charity based in south Birmingham that seeks to empower young people to bring about positive change in their local communities through a range of targeted programmes, using a mixture of activities across sport, physical activity, creative arts, youth development, training and workshops.
Great Western Air Ambulance Charity provides emergency care to people who are seriously injured at the scene of an accident or medical incident, saving lives across Bristol, Bath and North East Somerset, South Gloucestershire, Gloucestershire, North Somerset and parts of Wiltshire.
The Talent Tap, a social mobility charity, aims to change the lives of talented school leavers by offering them access to work experience with businesses, as well as support and networking opportunities, regardless of their socio-economic background.
Our Leeds office will continue to support cancer care charity Maggie's Leeds.
It comes after a year in which Bevan Brittan's four offices across the country raised over £40,000 for its nominated office charities.
Mark Calverley, Partner and Bevan Brittan's Community Engagement Lead, said: "We take our responsibility to our local communities very seriously and our colleagues care passionately about helping local people and initiatives.
"We are proud of the support we have given to worthy local causes over the past few years through fundraising initiatives, voluntary work and our annual Christmas donations. Through our Community Engagement activities, we aim to immerse ourselves within each of our four office locations.
"Over the coming year, we look forward to building strong relationships with these charities, engaging with their work and helping to raise vital funds after what has been a particularly challenging twelve months for them.
"I know our colleagues will, as ever, get behind the charities they have chosen and do everything they can to help them with their time and skills, and by raising as much money as possible."
Community Engagement is one of the four pillars of Bevan Brittan's Responsible Business programme, alongside Equality, Diversity & Inclusion, Wellbeing and Environmental Sustainability. The programme ensures Bevan Brittan acts responsibly now and in the future, reflecting the firm's commitment to doing the right thing by its clients, colleagues and communities.
The news is the latest positive announcement for Bevan Brittan, coming just days after it announced that Christian Hunt would become the firm's new national Head of Commercial Services, with Louise Leaver appointed as the firm's new national Head of Housing. Property Partner James Atkins was also confirmed as the new head of its Leeds office.
It also announced 15 promotions, including clinical risk expert Susan Trigg becoming a Partner. The firm has seen seven new Partners join in little more than 12 months, with two having moved to Bevan Brittan already in 2021 – Property finance expert Jessica Church and experienced pensions lawyer Nigel Bolton.