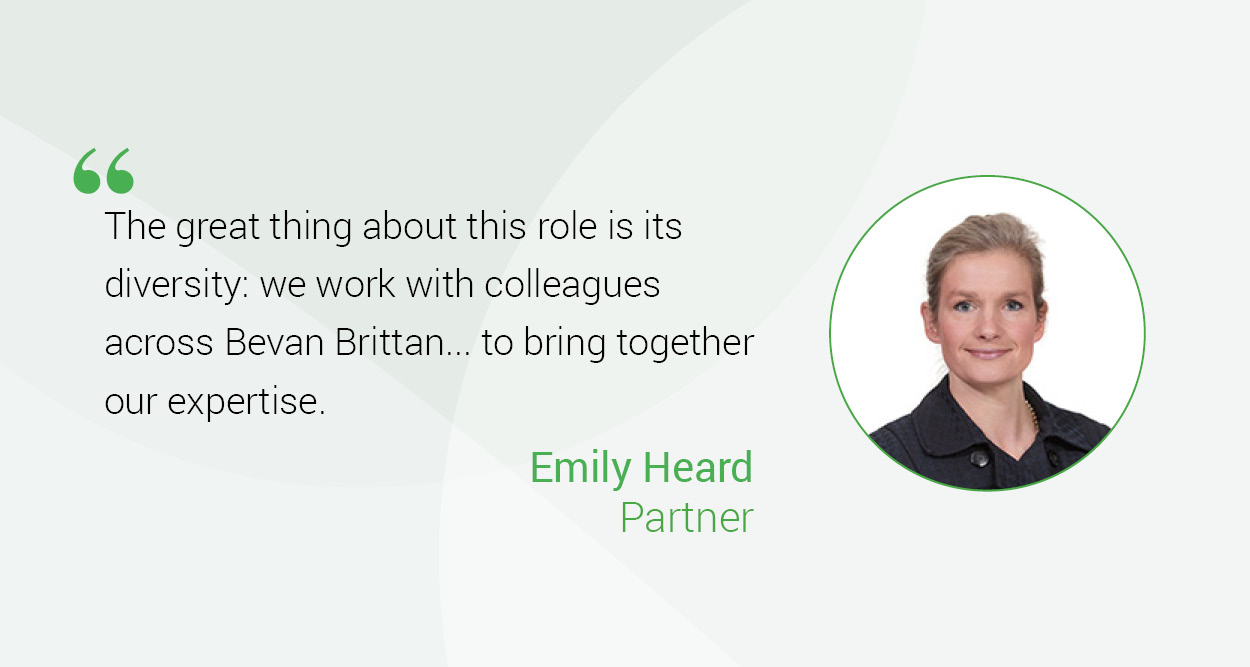 In our latest Chambers Spotlight interview, we hear from Partner Emily Heard, who leads Bevan Brittan's Public Procurement Team and has once again been ranked as a Band 2 lawyer in the newly published 2021 legal directory guide.
Tell us about your role. What markets and types of clients do you advise?
I lead Bevan Brittan's Public Procurement Team. We have a long tradition of advising in public procurement infrastructure projects including large-scale urban regeneration, delivering new estates facilities for the NHS, energy and waste, IT and communications. The great thing about this role is its diversity: we work with our colleagues across Bevan Brittan in their specialist areas such as housing, energy and waste, health and telecoms, bringing together our expertise on the application of the public procurement regime into all of these projects.     
My particular specialism lies in court challenges to public procurement processes. We are fortunate to have a fantastic client base that includes local authorities, NHS Trusts, CCGs and education institutions. We defend these bodies from the moment they first receive a letter of complaint all the way through to Court hearings, although of course cases will often be successfully resolved long before they reach this stage.
We also act for companies who have competed diligently in a public procurement process, but where there is a genuine concern that bidders have not been treated equally, nor the process run transparently. In this situation, we act to achieve outcomes such as a halt to stop the contract being awarded whist the matter is reviewed, a rewinding of poorly run processes and awarding damages. 
The Contentious Procurement Team operates alongside the Non-Contentious Procurement Team, meeting regularly to discuss our approach to cases. The expertise of my colleagues Susie Smith and Matthew Mo and their team means that the litigation team has access to a wealth of long-term experience on the subject. I feel very lucky to have had continuous opportunities to grow the Procurement Litigation Team. The whole team have exceptional problem solving and relationship building skills; together, we help each other and our clients achieve the best possible outcome.   
Which cases are you most proud to have worked on over the past 12 months and why?
Many of the cases we are most proud of are those which we have resolved quickly and quietly for clients early on in the process, enabling procurements often for vital public services and infrastructure to get back on track.
At the other end of the spectrum, we have been in Court representing our clients successfully, which entails working longer-term with our clients to assist them through the trial process. In February 2020 the High Court handed down its judgment in the case of Ryhurst Ltd v Whittington Health NHS Trust [2020], in which we acted for the Trust – the successful party. This was a challenge to the Trust's decision to abandon a procurement for a ten-year strategic estates partnership. We worked tirelessly to see the case through to a successful outcome and I am extremely proud of our involvement.
In a case which involves equal amounts of longer-term client collaboration, we are also representing Iridium, Hochtief PPPS, Hochtief Infrastructure and Dragados in a challenge to Transport for London in connection with the Silvertown Tunnel under the Thames. The case is ongoing and listed for trial in June 2021. 
What do you hope to achieve over the next 12 months?
I would like to see a combination of team and client development. We all like to immerse ourselves in particular markets and areas of legal analysis to build our expertise, so by continuing to do this I want to ensure we keep offering our clients excellent service. I would also like to build the team further by finding people with the right professional knowledge, energy and team-based ethos. 
Finally, I want to ensure that we can reach our existing client base through engaging, lively and informative virtual seminars, as well as connect with new clients who may be in need of specialist public procurement representation, particularly if their panel firms are conflicted.