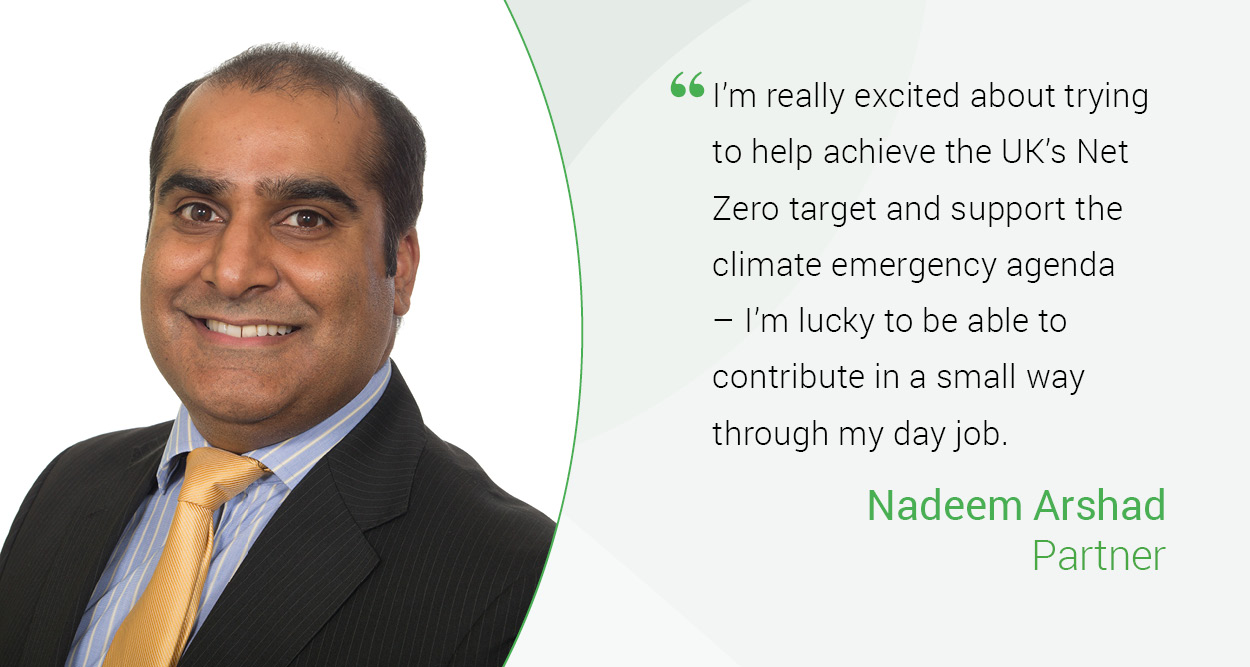 In the newly published Legal 500 directory rankings, Nadeem Arshad was recognised as an elite 'Leading Individual', marking strong recognition of our growing Energy, Project Finance & PFI practice. We caught up with Nadeem to delve a little deeper into his role and his team's recent success.
Tell us about your role. What markets and types of clients do you advise?
I lead our Energy and Resources team. Our focus is on delivering commercial deals in the energy, renewables, waste and utilities sectors both in the UK and internationally. It's a growing team and we have lawyers active in these areas across our four UK offices.
I advise on the delivery of complex project finance and PFI/PPP infrastructure transactions, as well as commercial contracts for energy generation, energy efficiency and waste management. My clients include renewable energy project developers, waste management companies, local authorities and other organisations involved in the Net Zero Carbon space.
I've got a particular interest in projects involving recycling, waste and resources. We have become a "disposal society" with both businesses and the public creating waste without even thinking about it. Many of my deals are about maximising our precious resources, recycling and generally being more efficient with what we use and produce.
My energy work is broad and includes some high profile mandates – it covers everything from energy storage, electric vehicles, district heating, tidal, smart energy hubs, energy from waste and even a hydrogen project!
It's a really exciting area to be involved with as all our work is focussed on the Net Zero Carbon agenda. This is very much in the public eye at the moment with lots of attention being created by David Attenborough, Greta Thunberg and the wider climate emergency movement. A must watch programme at the moment is David Attenborough's "A Life on our Planet" – it's only 1 hour and 23 minutes long and it's time well spent.
Which projects are you most proud to have worked on over the past 12 months and why?
There are three that come to mind, all of which are growth areas for the firm:
Brent Cross Town District Energy project – we have been advising two major UK and US developers (Argent and Related) who have come together to create BXS Limited. We helped BXS procure a long partner (Vattenfall) who will deliver a district energy solution for a major regeneration project in North London called Brent Cross Town. The way we generate heat needs to decarbonise and so it's been great to help deliver a deal in this sector which has this clear ambition at its core.  
ElectraLink's FlexR project - ElectraLink are responsible for operating the data hub that underpins the UK energy market. We have been helping ElectraLink develop a data innovation project which is crucial for the development of the UK's new energy system. The project will make key energy data more accessible for many players in the sector and assist in the UK's energy transition.
Birmingham City Council's Waste PPP project – This is a £500m+ PPP project which involves the operation and maintenance of the Tyseley Energy Recovery facility, Household Waste Recycling Centres and other waste infrastructure in Birmingham. It's a strategically important project for the City as it will help to improve their recycling performance and support them on their Net Zero Carbon aspirations.
What do you hope to achieve over the next 12 months?
I would like to increase our presence across the energy, renewables and waste sectors, and help our clients to meet their Net Zero Carbon ambitions. I welcome the Government's "Build Back Greener" and "green industrial revolution" policies and look forward to delivering projects across the sector which create green jobs and supports the economy out of the pandemic.
I strive to deliver our legal service to our clients in a way that recognises diversity, wellbeing and inclusion – this is important to me personally and the firm.
I am keen to grow our dedicated team further and build additional expertise over the next 12 months. Our rankings in the Legal 500 2021 guide are an absolute credit to the current team which includes: Nathan Bradberry, Olivia Blessington, Phil Roberts, Thomas Graham, Maxim Laithwaite and Rory Budworth – without their commitment, legal expertise and talent our recent successes would not have been achieved.
Finally, I'm really excited about trying to help achieve the UK's Net Zero target and support the climate emergency agenda – I'm lucky to be able to contribute in a small way through my day job.