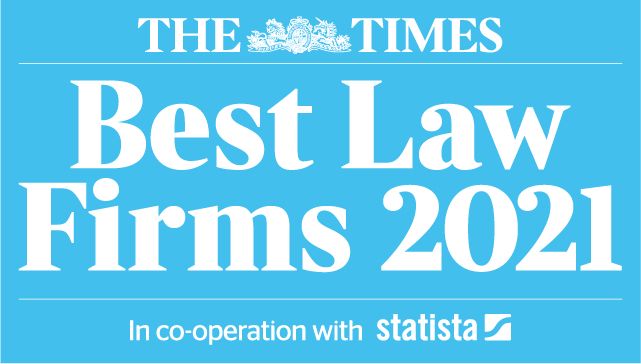 For the third year running, Bevan Brittan has been named among the UK's best law firms by The Times.
In the newly published The Times 200 Best Law Firm 2021 report, the firm has been commended in four practice areas, up from three last year, with Landlord & Tenant joining Employment, Pensions & Immigration; Administrative & Public Law and Clinical Negligence as standout practices.
Bevan Brittan continues to grow its presence in each of these markets and practice areas and over recent years, the firm has strengthened its Housing and Estate Management teams, with promotions and the appointment of new partners such as Louise Leaver (Banking & Finance), Deborah Rowntree (Banking & Finance), James Teagle (Property Litigation) and Wendy Wilks (Property). Collectively, the teams support a diverse range of clients on all aspects of their property and estate portfolios, including some of the largest Housing Associations and public and commercial landowners in the UK.  
The Times Best Law Firm report is based on the survey responses of over 3,000 lawyers to assess which legal professionals and law firms are most highly rated by their peers in their specialist fields, covering over 25 categories. The firms with the most votes made it into the final list.
This success follows Bevan Brittan's strong performance in both the Legal 500 and Chambers & Partners directory guides, building on a positive Financial Year in which revenue exceeded £50m for the first time.
Managing Partner Duncan Weir said: "Following the recent Chambers and Legal 500 success, based upon our clients' views, The Times recognition is based on the views of fellow lawyers across the country – affirming that Bevan Brittan is a well-respected firm among its peers.
"To add Landlord & Tenancy to our commended practice areas in the 2021 report recognises the reputation of our national Housing and Estate Management teams, as well as our Employment, Public Law and Clinical Negligence teams.
"Over the last 7 years we have grown our revenue by 57%, we now advise over 800 businesses and we have seen extensive growth in the number of clients we advise in energy & resource management, higher education and financial services to complement our market leadership within housing, local government and health and social care."