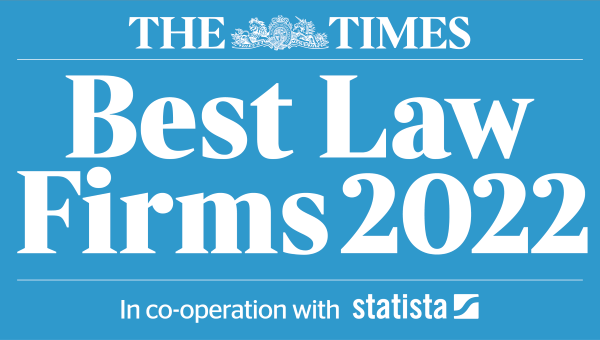 For the fourth consecutive year, Bevan Brittan has been named among the UK's best law firms by The Times.
In the newly published The Times Best Law Firm 2022 report, the firm has been commended in two practice areas, with Commercial Property named alongside Administrative & Public Law as a standout practice for the first time.
This rounds off an outstanding year for Bevan Brittan's property and construction practices, which won two major awards and recognises its market-leading expertise and level of client service across the housing, healthcare, local government, construction and real estate sectors. The firm's property teams support a diverse range of clients on all aspects of their property and estate portfolios, including some of the largest G15 Housing Associations and public and commercial landowners in the UK. 
In similar vein, Bevan Brittan's dedicated team of public and administrative law specialists has continued to advise clients on a wide range of issues as they navigate the unforeseen challenges of the pandemic, including shifting expectations around how they perform their public functions and adapting to legal reforms.  
The Times Best Law Firm report is based on the survey responses of over 4,500 lawyers to assess which legal professionals and law firms are most highly rated by their peers in their specialist fields, covering over 26 categories. The firms with the most votes made it into the final list.
It's been a year of continued growth for the UK-Top 100 law firm, which announced its eighth consecutive year of revenue growth in July before delivering its strongest performance to date in the Legal 500 and Chambers & Partners 2022 directory guides.
Bevan Brittan's Managing Partner Duncan Weir said:
"We are delighted to be recognised again as a The Times Best Law Firm, in what is our fourth consecutive year of inclusion. To consistently receive this recognition in this widely read national report, which is based on the views of fellow lawyers across the UK, highlights how highly regarded the firm is amongst our peers.
"Our Commercial Property and Administrative & Public Law legal teams have both had an excellent year, continuing to deliver support for a diverse range of clients including local authorities, housing associations, higher education, health and social care providers and financial services organisations – supporting our growth within both our established and emerging markets."