Bevan Brittan's Managing Partner says the national law firm's latest results, which show both revenue and profit growth, demonstrate that the business has dealt admirably with the coronavirus pandemic and reflect the strength of the firm's ongoing strategic planning.
Duncan Weir was speaking as the UK Top 100 firm announced its figures for the financial year 2020/21, in which it recorded a 9.1% increase in revenue to £56.1m (19/20: £51.4m) – its eight consecutive year of growth.
Net profit rose by 29.5% to £14.7m (19/20: £11.35m) in another strong year for Bevan Brittan, which exceeded £50m in revenue for the first time in its history last year.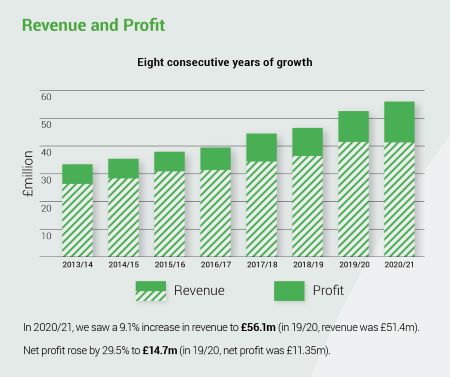 Duncan added that growth had been seen across the business, within its emerging market areas such as energy, financial services, higher education and construction, as well as its established markets – local and central government, health and social care, and housing.
This strong performance comes against the backdrop of the most tumultuous year in the legal sector's history, in which prior investment in the firm's IT systems enabled it to extend  its agile working practices for all its colleagues without any impact on clients.
Alongside that, Bevan Brittan continued its focus on a number of key areas, including:
Recruitment of eight new partners and legal directors across a range of legal practice and market areas – five joining in London, two in Leeds and one in Bristol.
Promotion of 15 colleagues – one to partner, eight to senior associate and six to associate
Refurbishment of its Bristol office and an office move in Birmingham
Further investment in its IT systems with completion of its Practice Management System upgrade
In August 2020 Bevan Brittan was one of the first law firms to announce full repayment of furlough monies received by Government. In March it announced a pay-rise for all colleagues and a further thank you bonus, having postponed its September 2020 pay review due to the pandemic.
Managing Partner Duncan Weir said:
"The strong partnership between our clients and colleagues over the past 12 months has been instrumental in our ability to successfully navigate a very challenging year. Against that backdrop, I am very proud of what our teams have delivered for our clients. We are a strong and growing business thanks to the breadth and diversity of our business and the way everyone has pulled together as one team during the past 12 months.
"In addition, our previous investment in our IT network and the fact we had already moved to an agile work structure also helped us when the pandemic struck. Almost all our colleagues were immediately able to work from home, with a core support team based within our offices, without any impact at all on the excellent service we were able to continue offering all of our clients.
"Our performance also shows the strength of the strategy we have put in place – growth across all markets is a reflection of our existing reputation in some markets and the growing profile we have in a number of emerging markets. That strategy continues to deliver and we plan for further growth."
Senior Partner Jodie Sinclair, who began her role on May 1, said:
"It is a fantastic achievement by everyone across the firm to have delivered this very strong result during a year like no other.
"These results were delivered by the vast majority of our teams working remotely. It shows our widespread ability to adapt to changing circumstances as well as the commendable commitment and professionalism we can draw on from everyone at Bevan Brittan to ensure we can continue to deliver high quality service to our clients.
"A key consideration during this unprecedented year as we supported our clients was also our focus on supporting the wellbeing and resilience of our colleagues. This remains a fundamental part of our responsible business agenda."
As part of the firm's expanding responsible business programme, the firm has introduced a number of new initiatives over the past 12 months:
Appointing 23 colleagues as Mental Health First Aiders, 20 as Wellbeing Ambassadors, 36 as Equality, Diversity & Inclusion Ambassadors and 29 as Green Ambassadors.
Introducing 'Coffee With'; a scheme that pairs up participating colleagues at random once a month for an informal catch-up, supporting wellbeing and helping colleagues to connect while working remotely.
Committing to becoming carbon neutral in 2021.
Donating over £40,000 to its dedicated office charities.
Its highly regarded expert legal teams also picked up a number of accolades with recognition as Legal Advisor of the Year by Health Investor and winning at both the Insider South West Property Awards and Bristol Property Awards.