As the Procurement Bill continues its journey through Parliament, the Cabinet Office has begun to release some practical guidance and information on the steps contracting authorities can take to prepare for the upcoming changes.
Whilst it is likely to be another year before the changes in the Bill take effect, the scale of change required is significant and there will be a considerable amount of work to do to get ready.  The Government is therefore encouraging the public sector to start some of that work now in order to be in the best position to hit the ground running.
The Planning and Preparation Checklist published on 21 October highlights four areas which would benefit from early consideration: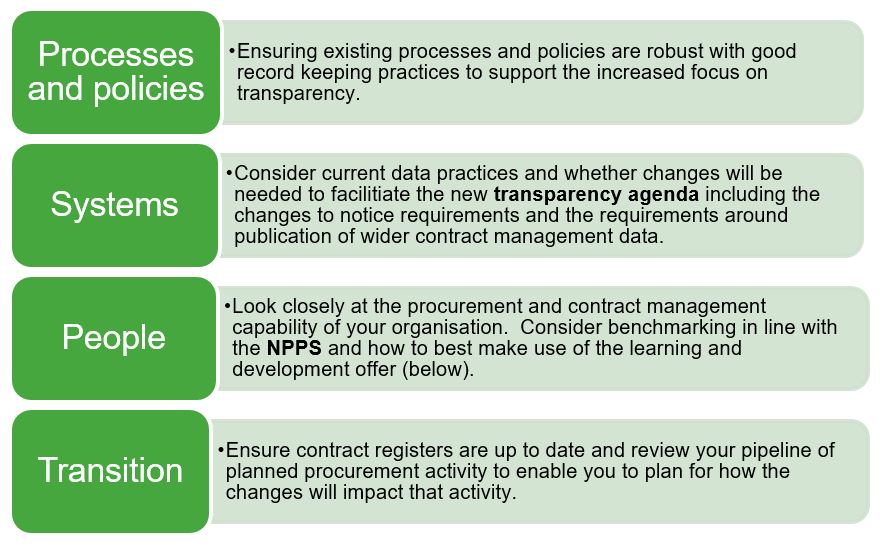 Preparing those individuals delivering public procurement for the change is a top priority and the Cabinet Office has been indicating for some time that a comprehensive, centrally funded learning and development programme would be available to achieve that.   It has now also published a short guide setting out its planned approach to training.  The Learning and Development Offer explains the different training packages which will be available depending on the needs of the audience.  These range from knowledge drops providing a high level overview of the changes and more detailed self-guided e-learning modules through to intensive, instructor-led "deep-dive" courses.   These courses will not be available until the law is clear (i.e. until the Bill passes into law and the secondary legislation has been made) but will be advertised in good time.
Finally, two Procurement Reform Conferences are proposed for March 2023 which are intended to provide practitioners and stakeholders from the public sector with insights on how the reforms will affect every part of the procurement process and to help with the planning for change.  More information is available here.
If you have queries about the reforms and how Bevan Brittan can help you to prepare, our procurement team would be delighted to hear from you.