Public procurement law is currently being reformed. The Procurement Bill (which when finalised will become the Procurement Act) is currently making its way through parliament. The Procurement Act is expected to become law later this year.
Two areas of change in the Bill causing much debate are the powers authorities will have to exclude suppliers from procurements and the introduction of a debarment list. The government aim of toughening the rules to prevent companies with a track record of poor delivery, fraud or corruption from winning public contracts is obviously welcome. However, there are understandably concerns around how such powers will work in practice. In this two part series, we explain the main changes, and what suppliers should be doing as a result.
Introduction to exclusion under the Bill
The Bill adopts a similar approach to the Public Contracts Regulations 2015 (PCR) in that the mandatory and discretionary exclusion grounds form the basis for whether a supplier must or may be excluded from a public procurement process.  However, there are some fundamental changes in terms of what authorities are looking at and how and when those checks will be carried out.  Critically, the consequences of exclusion from a procurement process have also changed with the introduction of the new central public debarment list.  We answer some key questions on these changes below.
What are authorities looking at?
As a starting point, suppliers need to be aware that the terminology has changed.  Authorities will now be required to consider whether suppliers are "excluded suppliers" and/or "excludable suppliers".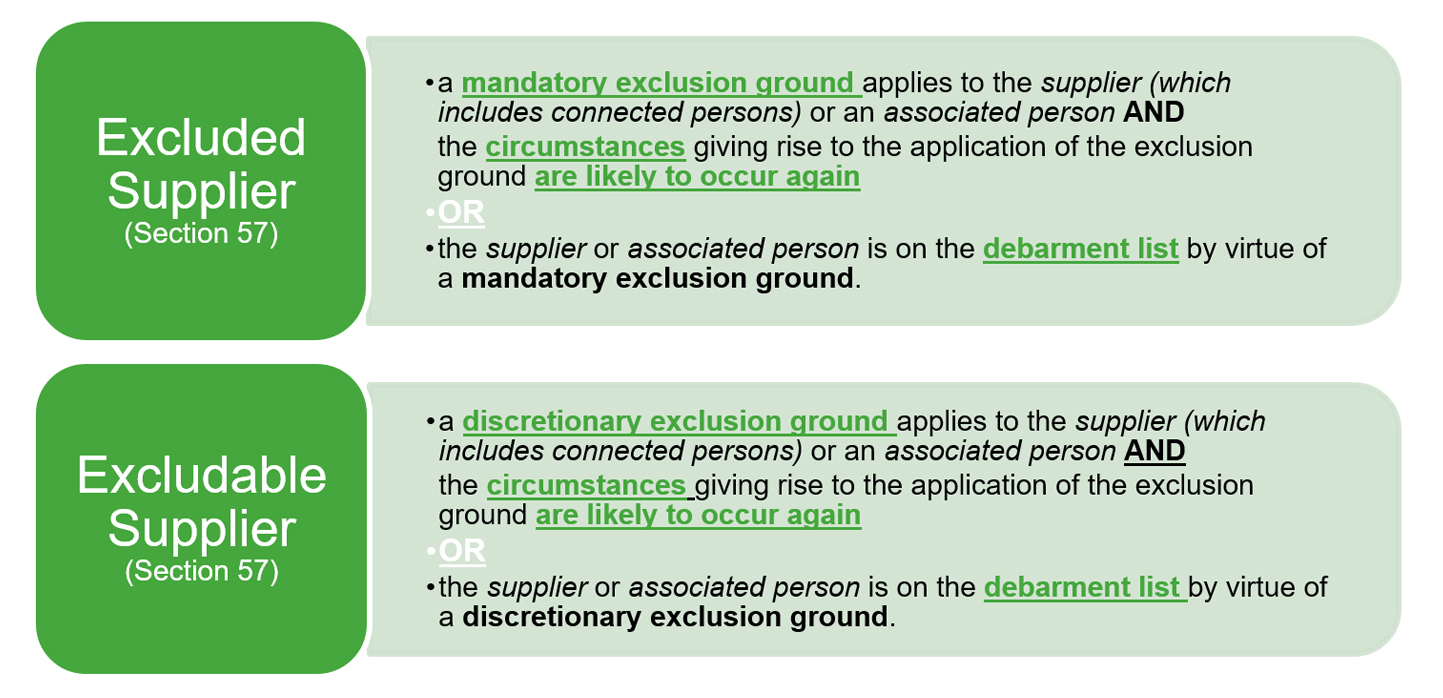 Mandatory and discretionary exclusion grounds
The mandatory and discretionary exclusion grounds are set out in Schedules 6 and 7 of the Bill. Whilst many of these are the same as under the PCR, there are new offences such as theft, corporate manslaughter, competition law infringement and failure to cooperate with debarment investigations (see below) now giving rise to mandatory grounds.  
The updates to the discretionary grounds include those around acting improperly in any procurement process and also prior poor performance of public contracts. The latter has been extended beyond a breach of contract which resulted in a serious repercussions such as termination or damages (which is the current PCR position) to also cover situations where an authority is dissatisfied with performance and where the contractor has not improved performance despite being given proper opportunity to do so. This ties in with the fact that information about contractual performance issues must now be published by authorities under Section 75 meaning more information on supplier performance will be available on which authorities could base these decisions.
Suppliers should note that the timeframes have also changed with both mandatory and some discretionary grounds now applying to offences or conduct occurring in the previous five years. Some discretionary grounds have shorter "look back" periods – e.g. either three years or from when Schedule 7 comes into force (see section 15 of Schedule 7). 
Circumstances likely to occur again
Under the Bill, Authorities are not just looking at whether exclusion grounds exist. They must also consider whether "the circumstances giving rise to the application of the exclusion ground are likely to occur again".
In doing so they might consider matters such as evidence the supplier has taken the offence or conduct seriously, any steps the supplier has taken to prevent further occurrences (or commitments to take steps) and the time which has passed since the circumstances initially occurred.
Suppliers therefore need to be aware that this assessment forms part of the authority's analysis in every case where an exclusion ground applies and to be prepared to provide information and documentation which would evidence that the offending or conduct issues are unlikely to reoccur.
Debarment list
Under the Bill, the government will maintain a central list of suppliers debarred from bidding for public contracts for a specified period. Suppliers will be added to the list if the relevant Minister conducts an investigation into the supplier, is satisfied that the exclusion grounds apply and decides that they should be added to the list. Suppliers will be given notice that such an investigation is happening and will have an opportunity to make representations. The minister must also give the supplier notice of a debarment decision and run an 8 day standstill period during which the supplier can start Court proceedings to suspend the entry of the supplier's name onto the debarment list. Suppliers are also able to appeal decisions to put them on the list and to apply for removal where there is a material change in circumstances or significant new information.
Note that as part of an investigation the Minister may ask the supplier (or a connected person) to provide relevant documents in a specified period (or give other assistance). Failure to comply with such a request to the Minister's satisfaction can itself give rise to a mandatory exclusion ground if the Minister considers the failure is sufficiently serious (see Schedule 6 para 42).
Conduct
The Bill introduces a new basis on which suppliers can be excluded in addition to the mandatory and discretionary grounds in Schedules 6 and 7.
Section 30 states that an authority MUST treat a supplier as an excluded supplier (i.e. must exclude them) where they have acted improperly in relation to a procurement and this gives them an unfair advantage in respect of the contract award which cannot be avoided by other means. Suppliers must be allowed a reasonable opportunity to make representations and provide evidence before a decision is made to exclude them.
Improper behaviour might include: 
failing to provide information requested by the contracting authority;
providing information that is incomplete, inaccurate or misleading;
accessing confidential information; and/or
unduly influencing the contracting authority's decision-making.
In addition, Section 30 expressly confirms that failing to provide information (or providing incomplete, inaccurate or misleading information) about a Connected Person, Associated Person or Subcontractor would trigger the exclusion.
This Section 30 provision is procurement-specific i.e. it is looking at how a bidder has conducted itself in a discrete competition and whether the circumstances may reoccur is not relevant. An exclusion on this basis would therefore not have any bearing on other procurements or debarment. However, suppliers should note that there are similar discretionary grounds for exclusion under Schedule 7 paragraph 14 for improper behaviour in any procurement which may also give rise to a supplier being an excludable supplier (with the wider consequences explained below) if the conduct is likely to occur again.
In our next article in this series, we cover:
Who authorities are looking at
How and when checks are being carried out
And the consequences of debarment and exclusion